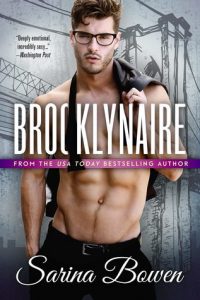 Brooklynaire
(Brooklyn Bruisers #4)
By Sarina Bowen

You'd think a billion dollars, a professional hockey team and a six-bedroom mansion on the Promenade would satisfy a guy. You'd be wrong.

For seven years Rebecca has brightened my office with her wit and her smile. She manages both my hockey team and my sanity. I don't know when I started waking in the night, craving her. All I know is that one whiff of her perfume ruins my concentration. And her laugh makes me hard.

When Rebecca gets hurt, I step in to help. It's what friends do. But what friends don't do is rip off each others' clothes for a single, wild night together.

Now she's avoiding me. She says we're too different, and it can never happen again. So why can't we keep our hands off each other?
MY REVIEW
Author Sarina Bowen is one of my auto-buy authors. If she has a new book coming out, I can guarantee that I either have pre-ordered it or have it on my to buy list for payday. Not only does she have some of the best writing in contemporary romance, but she has the most drool worthy covers as well! I honestly stared at "Nate" for longer than what is appropriate when getting ready to read a book.
Nate and Rebecca have been friends and coworkers for 7 years. Nate hired her as an assistant when he was just breaking out into the tech industry. Fast forward and you have Nate a billionaire who also happens to own the Brooklyn Bruisers hockey team.
When Rebecca has a fall on the ice, she is put on leave to see a doctor. After the concussion time frame has dwindled down, Rebecca is still having trouble with balance and not feeling much better. Nate decides to send her to a specialist to have this figured out. Such a nice boss to do this, but we soon find out he also has a huge crush on Rebecca.
All through the book we are treated to flashbacks of the seven years that they have worked together. We read through relationships, the business skyrocketing, and the evolving crush they both develop for each other.
I have to say that I wasn't huge fan of the ending of this book. While it finishes with a sweet happily ever after, I felt it was a bit rushed. The conflict that was introduced for the couple was also kind of "eh".  It didn't bring much conflict to the relationship.
Even with the ending being a little wah-wah, The slow building romance was amazing. Let us just say that Nate may be the sweet and laid back boss you would love to work for, but the sexy and oh so demanding man in bed is hotter!
MY FAVORITE QUOTES
My life is constant noise… When you kiss me, everything goes quiet. That's the only time I can forget everyone else.
"Hey Bingley."
"Yes, miss?"
"Can you give Nate a message for me?"
"Voice or text?"
"Uh, text. Tell him Rebecca sends her congratulations."
"Certainly, my dear. Are we adding any emojis?"
"No, because we're not twelve."
"Noted."
MY RATING