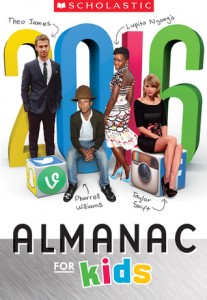 Updated for 2016 with the newest, most exciting facts and stats.

Need help with studying? Love trivia? Just want to impress your friends or teachers? The Scholastic Almanac for Kids 2016 has information about practically everything! If you have questions, this book has answers. Packed with hundreds of facts, stats, and all of the info you need to keep boredom away and get your homework done. The 2016 edition features an eye-catching cover, completely updated facts and stats throughout, and new pop-culture sections.
My children and I crave trivia and facts.  We play board games weekly that is trivia based, and we love whenever there is a new almanac released! Scholastic feeds are addiction in the 2016 Almanac for Kids.
The featured topics in this almanac include:
Pop Culture
-Music. TV, Movies, Books, Games
Celebrate
-Birthdays, Calendars and Holidays
Our World
-Landmarks, Population, Languages, Religion, Etc.
Science and Technology
-Space, Inventions, Weight and Measures, Etc.
Nature
-Animals, Plants, Human Body, Weather, Etc.
History
-World, USA and US Government
Geography
-World, Flags and Facts of the World and USA
Also featured are full color pages, timelines and plenty of lists. Anything your child wants to know seems to be in this book. Almanacs are always full of knowledge and important dates/events to remember. This 2016 Almanac will keep your child entertained for hours!
[sc:rate5 ]