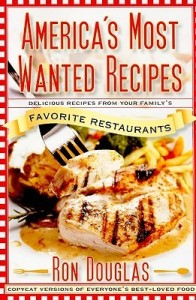 The average American family eats out three or more times per week, which translates into hundreds of dollars spent on food each month. In these hard economic times, families simply can't afford to keep paying these high prices. And Ron Douglas has spent the past five years of his life ensuring that we won't have to. With the help of a test kitchen and more than 45,000 tasters, he uncovered the carefully guarded recipes of the most popular meals at restaurants across the country. With his easy-to-follow steps, families can now enjoy the meals they love most at a price they can actually afford.
MY REVIEW
I am on a small kick of finding cookbooks to stock in my kitchen that I can rely on when needing that perfect recipe.  I am in no way a great cook. Most of the time, my kids look at anything I cook and wonder if they will survive the night if they eat it.  So on the quest to not only learn how to cook properly, I am also looking for recipes that recreate some of the favorites we eat when we go out to dinner.  Not a simple task.
There were a few good looking recipes in this book that held promise. The T.G.I. Fridays Honey Mustard Dressing and the IHOP Buttermilk Pancakes looked fairly easy and tasted pretty close to the secret recipes of the famous restaurants. There aren't that many recipes though in this book that I would be searching for.  I also noticed that though I am familiar with most of the establishments mentioned in this book, it is favored to certain areas and not everyone would know the restaurants.
While I enjoyed browsing through the recipes, I will have to pass on keeping this one on my kitchen cookbook shelf.  It is not one I would use often enough to  practice with or to even reference in the future for meals.
MY RATING
[sc:rate2 ]