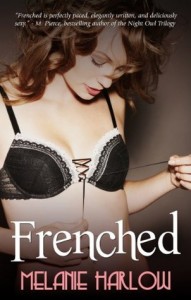 Frenched (Frenched #1)
by Melanie Harlow

When Tucker Branch, playboy heir to Branch Bolt and Screw, screws and bolts a week before their wedding, Mia Devine wants nothing more than to crawl under her newly monogrammed sheets and plan a funeral for her dignity. But her friends convince her that bitter tastes better when it's drowned in Bordeaux, so Mia grits her teeth and packs her bags, determined to make the best of her luxurious Paris honeymoon—alone.

She never planned on meeting Lucas Fournier.

The easygoing bartender's scruffy good looks and less-than-sympathetic ear annoy her at first, but when she takes him up on his offer to show her around the city, she discovers that the romance of Paris isn't just a myth.

Nor is the simultaneous O.

The last thing Mia needs is another doomed love affair, but since she only has a week, she figures she might as well enjoy la vie en O with Lucas while she can. But each day—and night—with Lucas is better than the last, and suddenly her heart is telling her this is more than a rebound fling.

Is it just the seduction of Paris…or could this be the real thing?
I went into this book thinking it was going to be a hot and steamy read — which it is! — but I also found that this book was fun and oh so sigh worthy.  The best part about this book? LUCAS.  You will fall in love with this fabulous French-American man.  He will sweep you off your feet just like he did with Mia.
After Mia's fiance dumps her one week before their glamorous wedding, her friends convince her to take her honeymoon Paris trip anyway.  Mia goes against her OCD planning and just goes to Paris to start enjoying herself.  You see, Mia has everything planned out including what age she will have children, what age she will be married by, and what age she will have a home, etc.  She is a major list maker.  Anything and everything is made into a list and planned out.  Lucas throws Mia for a loop when she walks into his family bar in Paris.  She is upset and missing her relationship status and ready to head home the first night.  Lucas convinces her to let him take her on a tour of Paris before she decides if she wants to leave early.  She agrees as long as he doesn't show her any romantic sites.
These two quickly fall for each other only to find out that Lucas has some secrets of his own. Not only does Lucas disrupt Mia and her plans, but Lucas is a person who lives in the 'now' and refuses to plan his life in the future. This translates into Lucas not wanting to settle into a commitment with anyone.  He doesn't believe in marriage, kids or anything Mia desires for her future.  In Frenched, Mia and Lucas have to deal with their feelings and what it means to be with someone they can't live without.
FAVORITE QUOTES
"Stop it, Mia. And don't even look at his crotch right now. Don't do it, don't do it, don't— I did it. I couldn't help myself." –Mia
"Any requests?" he asked.
"Take off your pants."
He grinned at me over his shoulder. "I meant music."
— Mia and Lucas
MY RATING
[sc:rate5 ]