After begging, crying and nagging on my part, I FINALLY got the wonderful
Fiction Vixen
to appear and post on my blog!  She is so fun and entertaining to talk to and I knew that someday, she would cave and appear on my blog.  She is the equivalent to a movie star in the blog world in my opinion!  Everyone knows who she is and everyone wants her on their blog! Well, nah-nah! She is on MY blog today and she is all mine! HA! So sit back and enjoy the wonderful post she contributed to the blog today! Go check out
her blog
after you enter her giveaway she also is sponsoring here!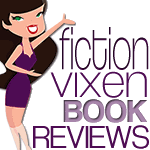 I'd like to thank Amy for having me as a guest at My Overstuffed Bookshelf.  I'm beyond flattered that she invited me and in awe of her bravery.  I do owe her an apology though.  She invited me quite some time ago and I have managed to allow real life and other pesky things to get in the way of my blogging fun.  You see, she left the topic and due date up to me.  Big mistake Amy.  Big. Mistake.  If I am given even the slightest opportunity to procrastinate, I'll seize it, no guilt.  Procrastinating is one thing I do not procrastinate on. So now that I've managed to blame my lovely hostess for my slackassedness, let's get down to business.  
Since Amy left the blog topic up to me, I had to do some deep philosophical thinking.  I donned my hooded robe, and retreated to a Tibetan monastery to meditate on life and blog topics.  I emerged from the experience a changed woman.  Oh, I still procrastinate and blame others for my short comings but I have a new appreciation for the comfort of hooded robes.  
Upon my return to bloglandia, I decided to visit My Overstuffed Bookshelf and become one with the blog.  I wanted to absorb its essence.  Understand it from the inside out.  And then, as if the heavens opened *queue dramatic music* a topic came to me.  
Hoarding: The Overstuffed Bookshelf and Why I Fear It.  
I wouldn't call myself a neat freak; I can certainly tolerate my share of clutter.  But I like tidiness and organization for the most part.  Admittedly, books stack and store nicely in most cases but there are some of you in bloglandia that make me sweat and tear up with your pictures of your overstuffed books shelves.  I can't handle it.  Bookshelves sagging under the weight of books crammed within shelves make my heart race and I whimper like a baby.  I have nightmares of being buried under an avalanche of paperbacks!  I can hear the creaking and cracking of the shelves as they struggle to support the weight of the written word.  This is a real phobia people, stop laughing at me. 
 Is that Fiction Vixen under there?
Books come and go rather quickly in my house.  I get them, read them, review them, and pass them on to new homes.  I know, I know…how can I do that right?  I do have collections of my favorite series and I keep the one off here and there but for the most part, once it's read, it's out of there.  No saggy shelves!  A library volunteer once had the nerve to roll her eyes at me when she saw me coming with yet another box of paperbacks.  Now I just roll up, toss the box toward the front door and speed away cackling like the wicked witch of the west.  I also put my books up for swap; I give them to friends and give them away on my blog.  Hopefully someone will discover a new author, write a review, and be entertained for a few hours.
So tell me, what team are you on?  Team Saggy Shelf or Team Read and Rid It?  Or are you somewhere in between? 
I have an extra copy of My Way To Hell by Dakota Cassidy.  I can't have duplicates just lying around the house so I'm giving it away.  I really enjoyed this book; you can read my review
here
. 
I'll leave the rules of the giveaway to my gracious hostess.  
Ha! She left the entering rules to me! So, we are going to make this fun for everyone!
1.  This contest is only open to USA.
2. Answer the question above in red in the comments.
3. Please include your email address for me to contact the winner!
4. It is not required, but appreciated if you are a follower of Fiction Vixen and myself! We love having our own army of followers to corrupt!
5. Contest will run until 8/20/2010 with the winner be announced on 8/21/2010.