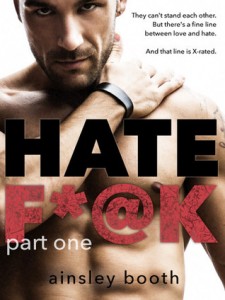 Hate F*@k
by Ainsley Booth

Warning: This is just the start. This doesn't end well. And it's going to get much worse before it ever gets better.

Cole:
I push her buttons. I want to push them in the good way. Dirty, up-against-the-wall, my-hand-in-her-pants kind of way.
But that's not possible, because I'm dark and she's light, and we both know it.
So I push her buttons in the bad way, making her hate me.

Hailey:
If a genie granted me three wishes, I'd ask for Cole Parker to never look at me again, that I'd forget the dark promise in his eyes, and that just once, before he vanished from my life completely, that he'd push me up against a wall and fuck me.
Then I'd go wash my mouth out with soap.
I seriously feel like I read an entirely different book than everyone else.  I see reviewers giving this book high praise and glowing recommendations while I sit here at a loss on the last page just blinking my eyes in confusion.  What the heck did I just read?
The characters were dull and hate each other but we don't really know the real reason to the hate. They are attracted to each other though and have some steamy and smutty scenes together. Then we have an ending that leaves you on a cliffhanger of sorts.  Hailey was snobby and came across as better-than-thou. Cole was a dirty talking bad boy but protective and secretive.  This book was just s hot mess for me.
MY RATING
[sc:rate1 ]