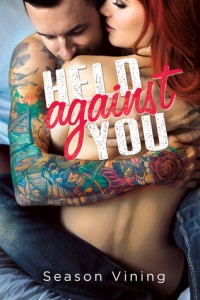 Accused of a horrible crime and on the run, Kat has been rejected by everyone she loves. She's a fugitive from her past, flitting from town to town with nothing but the clothes on her back. Until she meets a man who literally stops her in her tracks.

This notorious bounty hunter, with his stunning good looks and powerful instincts, never fails to capture his prey. But there's something about his newest mark that gets under his skin–and it's not just the naked innocence he sees in her eyes. Behind his ice cold demeanor, he has his own secrets… and now his lively, vulnerable captive is about to crack him wide open.

As they drive across the country together, neither of them can deny the spark of attraction between them. Will their journey force these two passionate opposites together…or will their dangerous secrets be too much to bear?
MY REVIEW
Held Against You by Season Vining held my interest for the first half of the story. There was suspense, mystery, chemistry, romance and lots of cat and mouse chasing.  I liked the characters enough together that I thought they had a good chance of a sizzling romance.  Kat was spunky and she was a good fit for the bounty hunter.  They both had attitudes and could bicker back and forth with each other yet sweet talk the next. What I didn't like however, was the way the relationship and romance progressed after about half way through the book.
The details and the reason why Kat is on the run wasn't what you would expect.  Not that it would be a deal breaker in disliking the story, the out come with the bounty hunter is what flopped for me.  Would a bounty hunter really do that? Would he just change everything in such a quick few days? To me, it wasn't sitting well with me as a reader because it was an easy way out for a 'happily ever after'. There are still unanswered questions for me because it wasn't really resolved. It was assumed it was a HEA, but there was no real closure or punishment for the crime.
I really think the story needs some fine tuning for the last half of the story.  Too many loop holes can ruin any story, but unbelievable outcomes can also bring characters to an end just as fast.
"Would you hurry up? I'm exhausted," he growls.
"Aww. Poor widdle kidnapper is tiwerd."
"I'm not a kidnapper. I'm a fugitive recovery agent."
"You say po-tay-toe."
MY RATING
[sc:rate2 ]