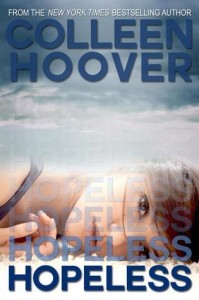 Sometimes discovering the truth can leave you more hopeless than believing the lies…

That's what seventeen-year-old Sky realizes after she meets Dean Holder. A guy with a reputation that rivals her own and an uncanny ability to invoke feelings in her she's never had before. He terrifies her and captivates her all in the span of just one encounter, and something about the way he makes her feel sparks buried memories from a past that she wishes could just stay buried.

Sky struggles to keep him at a distance knowing he's nothing but trouble, but Holder insists on learning everything about her. After finally caving to his unwavering pursuit, Sky soon finds that Holder isn't at all who he's been claiming to be. When the secrets he's been keeping are finally revealed, every single facet of Sky's life will change forever.
MY REVIEW
Wow. Just wow.
Have you ever read a book and just have no words to really express what you are feeling?  That is how I feel after reading Hopeless by Colleen Hoover. I have had this book sitting on my Kindle for quite some time now.  I had purchased it back when everyone was raving about it, but somehow it just got buried in my list on my Kindle.  While trying to find something to read one day, I came across it again and decided to give it a try. I am still berating myself in my head for waiting to read this.
First of all, this book does touch on sensitive subject material.  If you can handle reading about sensitive subjects, then I urge you to read the book.  I loved the character of Dean Holder.  I loved his strength and his determination.  Not only has he suffered loss and pain in his life, but he has also held onto 'Hope'.  He never really gave up.  While we slowly learn about his past growing up, we learn pieces of information that help us figure out the mystery involving Sky.  Sky has so much more back story than what we first believe and it slowly grows and evolves into a bigger puzzle involving many more key characters in the book.
I don't want to give to much away, because the story from start to finish is a whole.  Each chapter helps us reach the ending that the reader explores in the first chapter teaser.  I can definitely say this book is on my Top Ten for the coming year even if it was published awhile back. Again, why did I wait so long to read this?!
"Not everyone gets a happily every after. Life is real and sometimes it's ugly and you just have to learn how to cope."
MY RATING
[sc:rate5 ]