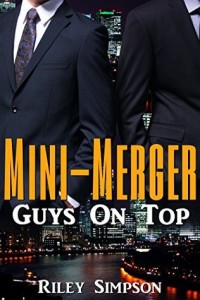 Mini-Merger: Guys on Top
Author: Riley Simpson

Gabe smiled mischievously, "Are you proposing some kind of mini-merger between us?"

Gabe's not interested in players – he's interested in serious business. As the VP of Summers Enterprises, he has to oversee an intense company merger with Chaucer Enterprises, but his counterpart at Chaucer, Jag, seems to be all about seduction and fun and games.

But as Gabe gets to know Jag, and why the man is known by that name, he discovers a sexy charmer who's hard to resist. Perhaps there's more to Jag than meets the eye, and one unexpected late night encounter will tell Gabe everything he needs to know.
This book was not a hit for me. I expected a M/M romance but got something else. This is a short read that comes listed at 21 pages.  I understand that 21 pages are hard to flesh out character personalities and actual romance.  Being that short of a book makes not only the romance almost nil, but leaves the reader with feelings of no connection with each character.  I felt like I was reading a submitted short story to a men's magazine.  It was short, to the point and almost clinical in character feeling. If you are looking for a short read with no depth or swoon worthy moments of love, then skip this 21 page story. Go for a full length novel. Yet, if you want something quick, straight to the point and mainly just a sex fueled chapter, then this is your go to read.
[sc:rate1 ]