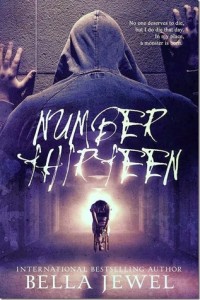 We're thirteen girls, captive, slave to our master.
A master we've never seen.
Obedience will become all we know in our shallow existence. It is the only emotion we're permitted to feel.
When we're bad, we're punished. When we're good, we're rewarded.
Our scars run deep. Yet we survive, because we have to…
because HE teaches us to.
All of us are special, we feel it with everything we are.
He has us for a reason, but it's a reason we don't know.
We've never seen his face, but we know that something deeply broken lies beneath the darkness. With every touch, with every punishment, we know it.
Then something changed.
He showed me who he truly is.
Now I want him.
I'll go against everything I know to be with him.

A monster.

My monster.

Loving him is a sin, but a sinner I am. I won't stop until I see every part of him. Even the parts he keeps locked deep down inside.

I am Number Thirteen, and this is my story.
MY REVIEW
What was that?!
That was the first thing that popped in my head after reading this book. This book….reaches.  That is the best word I can use to describe this book.  It had promise.  The writing wasn't too bad in itself. The plot was something that had me curious. What happened though was just so far out there and unbelievable that I am still processing it all.
Not only was it unbelievable — especially the ending — there are still a ton of questions left for the reader. What happened to certain characters after all?  Where did the male body guards come from? Why did he think he could get away with everything he did and not realize how screwed up and illegal it was?!
The flashback beginning chapter is not an answer on why he did all of this.  It was an excuse that he used to justify himself of everything he does in the book.  I love dark and suspenseful romance books, but this one was so far off the rails that I didn't even enjoy a quarter of what I should have.
"A beautiful heart can never love a dark heart. But a dark heart can crave a beautiful one, and it will. I will crave you, beauty."
MY RATING
[sc:rate1 ]