EDITED TO ADD:The contest is now closed!!!Winner is: Daph

***************************************



Today I am hosting the very talented Tessa Dare for a quick tour.  It is actually part of a progressive tour going on all day at different blogs at different times!  Tons of prizes to be had readers!!!
Don't forget to enter the contest for a $75 Watermelon Festival Edible Arrangement found at the bottom of the post!
Now on with the show and meet the main characters from A Lady By Midnight, Kate and Thorne!
A temporary engagement, a lifetime in the making…
After years of fending for herself, Kate Taylor found friendship and acceptance in Spindle Cove–but she never stopped yearning for love. The very last place she'd look for it is in the arms of Corporal Thorne. The militia commander is as stone cold as he is brutally handsome. But when mysterious strangers come searching for Kate, Thorne steps forward as her fiance. He claims to have only Kate's safety in mind. So why is there smoldering passion in his kiss?
Long ago, Samuel Thorne devoted his life to guarding Kate's happiness. He wants what's best for her, and he knows it's not marriage to a man like him. To outlast their temporary engagement, he must keep his hands off her tempting body and lock her warm smiles out of his withered heart. It's the toughest battle of this hardened warrior's life…and the first he seems destined to lose.
*************************************************
Kate: Oh, what a lovely blog, Thorne. It's called My Overstuffed Bookshelf. Look all those beautiful books.
Thorne: What does she do with them all?
Kate: Read them? Just guessing here.
Thorne: *shrugs.*
Kate: For those catching, up, first we decided strong, silent Thorne needs a meme to make him cuddlier. At our second stop, we tried out a few famous memes for size. That didn't go so well. But now I have a new idea!
Thorne, grumbling: Brilliant.
Kate: Have you seen these e-postcards? So much fun! You can create your own at the Some Ecards site.

Thorne: I don't think I will.

Kate: But others might like to. And look, I made bunches. I'm going to tell the story of our courtship in postcards. Here you are, in your militia uniform, foolishly pretending that you care nothing for me beyond what's required by duty.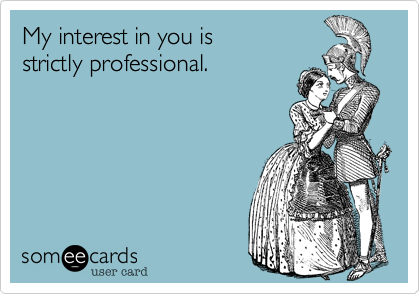 Thorne: That is not me. What is with that hat?
Kate: Never mind the details. Here's the second one, where you're pushing me away to "protect" me.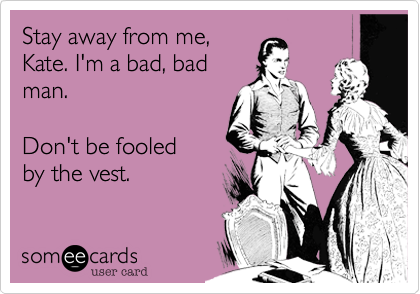 Thorne: I don't appreciate those quotes around "protect". I was trying to protect you, no quotes about it. And that vest…? The ponytail? I can't even. 
Kate: Oh, hush. We're getting good now. Here's where you're kissing me and pretending it will never, ever happen again. But I knew it would.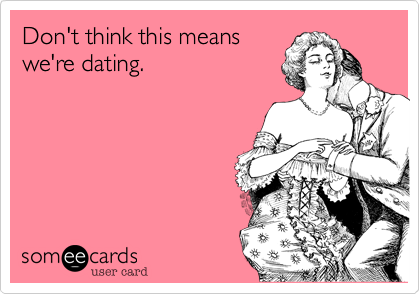 Thorne: At this rate, this is going to take all day. 
Kate, riffling through cards: You were rather stubborn, but my main concern is that these cards are about to become rather NSFW. 
Thorne: NSFW? Should I even ask? 
Kate:
Oh, Thorne. You don't need to ask. NSFW is your normal state. And upon reflection… (blushes deeply at one particular image) Right, I think we need to find something more wholesome. Don't miss the next stop… Kate and Thorne's meme struggle takes a furry twist at
the Avon Romance blog
at 3PM EDT!
  Feel free to play around on the Your E Cards site and have fun making your own! 
$75 Watermelon Festival Edible Arrangement
 What is the best card (or gift) you've ever received or sent "just because"?
Just answer the above question in the comments with a valid email address to be entered!
Hurry! The contest is only open for an hour and closes at Noon!