To try an catch up on some reviews, I decided to do a list of books I have finished over the holidays and at work lately. They are ones I haven't had a chance to write full reviews on, but should still give you an idea of what I rated them and an overall expression for each one.
1. THE IMMORTAL WHO LOVED ME by Lynsay Sands
I love Lynsay Sands and her vampire romance books, but this one just felt as a filler book with no real chemistry between the two main characters. It felt forced, rushed and bland. It didn't have the creative spark that she has had in the past books of the series.
2. LONDON FALLING (THE RULEFORDS) by Emma Carr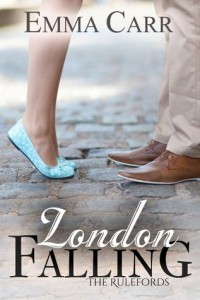 (2 Stars)
Wasn't a huge fan of the writing in this one. The plot was okay but poorly executed for me with little appeal. It did have some aspects that lured it to the 2 star rating but it never made it past that.
3. HANSEL#1: An Erotic Fairy Tale by Ella James
Creepy and skeevy in my opinion. I was not as thrilled with this one as other readers have been. I just couldn't get past some of the things that happened. I honestly had to force myself to finish this book and then have to deal with the ending we were given.
4. KALEIDOSCOPE by Kristen Ashley
Love this author but her writing voice grated on my nerves slightly in this book.  I think I am just over the speech –and sometimes lack of speech– that this author is famous for. I might reread this one in the future though to see if it is just my reading preference at the moment.
5. IN KELLY'S CORNER by Roxie Rivera
Absolutely loved this book.  While it did have a little bit of story hiccups along the way, I truly enjoyed the journey and entertainment of this book. Another author I am adding to my auto-buy list.