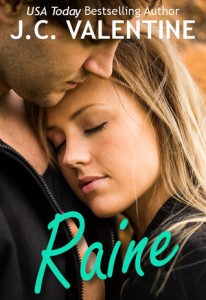 RAINE
by J.C. Valentine

Warning: RAINE contains adult situations some readers may find offensive. This is a deeply emotional story that contains violence, explicit sex, strong language, and is not considered suitable for readers under 18.

Shy.
Intelligent.
Naive.
Statistic.

Raine Forester was an average girl leading an average life. She slipped beneath everyone's radar, until Camron Moss, the most popular guy in school, took interest in her and changed everything.

Some acts are unforgivable.

Raine thought she'd been accepted. She thought she was one of them. She thought she was in love… until one moment made her realize she'd trusted the wrong person. Lies are told, hearts get broken, secrets are revealed, and sometimes, true love is found in the least likely places.
Have you ever started reading a book and thinking to yourself that you aren't sure if this is going to be a book that keeps your interest?  I admit that after the first few chapters, I was wavering between putting the book down or going for the whole she-bang.  It does touch on some sensitive subject including rape.
I wasn't a fan of a few characters in the book. The boys' parents were horrible.  I hated the fact that they had no substance to their roles except to be the money holders that are cliche.  I also took a bit to warm up to Raine. She is suppose to be some ordinary girl dating this wonderful and popular boy, but within a chapter he turns into this completely different character at the other end of the spectrum.
Then we have Jarret, who is Camrons little brother.  He is older and the black sheep of the family. He swoops in to save the day and the woman in distress.  While I did like his character and was rooting for him to succeed in being the man his brother could not be, I would have preferred him to have stood up a little sooner to his family.
Overall the story was a pretty decent read for a new to me author.  I could see myself reading more books by author J.C. Valentine in the future.
[sc:rate3 ]
AMAZON / AUTHOR WEBSITE / GOODREADS