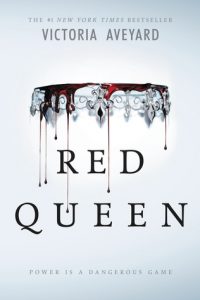 This is a world divided by blood – red or silver.

The Reds are commoners, ruled by a Silver elite in possession of god-like superpowers. And to Mare Barrow, a seventeen-year-old Red girl from the poverty-stricken Stilts, it seems like nothing will ever change.

That is, until she finds herself working in the Silver Palace. Here, surrounded by the people she hates the most, Mare discovers that, despite her red blood, she possesses a deadly power of her own. One that threatens to destroy the balance of power.

Fearful of Mare's potential, the Silvers hide her in plain view, declaring her a long-lost Silver princess, now engaged to a Silver prince. Despite knowing that one misstep would mean her death, Mare works silently to help the Red Guard, a militant resistance group, and bring down the Silver regime.

But this is a world of betrayal and lies, and Mare has entered a dangerous dance – Reds against Silvers, prince against prince, and Mare against her own heart.
I finished this book roughly around 8 hours ago.
8 hours.
8 hours of bickering in my head about this book.
How do I rate a book that I both loved and loathed?
This book brought out a RoLlErCoAsTeR of emotions.
Let me start with the main characters of the book.
Mare: This girl had me wanting to pull out every hair on my head. One minute she is in love with Maven and the next page she is kissing Cal. Bad Mare. Although to be quite honest, I still can't decide which boy to choose either.
Maven: Poor, misunderstood and unloved spare for an heir Prince. I fell for your sweetness and smooth moves just as Mare did. Then you pull a one-two punch at me and I STILL wanted to like you. How can you do that to me?…I mean Mare.
Cal: The Prince that matters to the Kingdom. Not only is he first in line for that throne, but he has everything going for him. Feelings that get in the way and make you care. Oh let's not forget how you can set us on fire….literally.
Now the plot reminded me of Game of Thrones.
There. I said it. I actually compared a book to another book and I am waiting for the ruler to strike my hands. I can't help it though. I kept picturing the characters from GoTs in each role in Red Queen. Think about it for a few minutes and it works — and it is amazing!
Then we get to the final page and I am so frustrated with it. Seriously?! You chose that point in the story to stop and leave me hanging? No. Just NO! Just for the record authors, if you are going to leave us with that big of a cliff hanger, you better deliver sooner on that next book. Write faster!
With all that being said though, I love this book. I love how I was yelling out loud at the characters.  I wavered in my choice of which Prince was the right one for Mare. I was excited for each traitorous move on the chess board. I screamed at the ending and maybe thought about throwing it against the wall. All in all, the emotions the author put me through in this book is exactly what books should do. So bring on the next one. I can't wait.
"The truth is what I make it. I could set this world on fire and call it rain."
― Victoria Aveyard, Red Queen