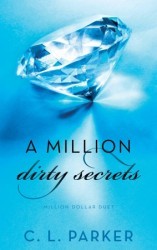 A Million Dirty Secrets
Series: Million Dollar Duet #1
Author: C. L. Parker
SUMMARY
(From Goodreads)
Delaine Talbot has a secret. When a matter of life and death threatens to tear apart her family, Delaine makes the ultimate sacrifice. She auctions herself off at Chicago's most exclusive erotic club. Now she belongs to Noah Crawford, a wealthy mogul who introduces her to a seductive feast of the senses, awakening desires she only dreamed about.  
 
Noah doesn't know why Delaine sold her body for a cool two mil. But it's the perfect business arrangement. The inexperienced beauty will learn to satisfy his every sensual need, yet never touch his heart. Almost immediately their relationship generates heat—in more ways than one. When they fight, they take no prisoners. When they love, they show no mercy. When they're together, they never want to leave each other's arms. But soon, their intense, physical bond will take an unexpected turn—evolving into something neither has bargained for: the promise of a lasting love.
MY THOUGHTS
This book is the first book in a series by author C. L. Parker.
Let us just sit and reflect about this read for a moment.
Was it deep and emotional? No.
Did it have characters that a reader could connect with? Um, not really.
Did it have a realistic plot? Well…no.
Was it entertaining to this reader? Only if laughter was suppose to be the main emotion with a side of WTH?
I'm sorry but there is no other way to describe this book.  I shook my head so many times while reading it that I have a kink in my neck now.  Not only was it cliched and corny, but the characters flip flopped from being likable to completely the opposite the next moment.
Noah was suppose to be a hard and determined business man with a Dom streak.  While we would get this small glimpse of him sometimes, other times he was a softy and lovable man who happens to be rich.   I ended up liking him better than the heroine of the story.
Delaine was suppose to be offering herself up at an auction to the highest bidder for two years.  She sold herself for two million dollars to Noah so she could have the money to pay for her Mother's medical bills.  While it seemed like a worthy cause to sell yourself like a prostitute,  it isn't played up exactly like it should be.  When the parents receive the anonymous donation into their account, they don't even wonder why really or want to find out who donated such a lump sum. They pass it off as a miracle.
Then we have the inner monologue of the Double Agent Coochie that is in lust with The Wonder Peen.  Yes, you read that correctly and it is mentioned in almost every chapter in the exact same way.  The first time you read it — funny.  The fifteenth time you read it — eye rolling and stop already!
This book is over the top and on the verge of DNF by halfway through.  While I did finish reading the book,  it was not enjoyable by the last half.
MY RATING
[sc:rate2 ]