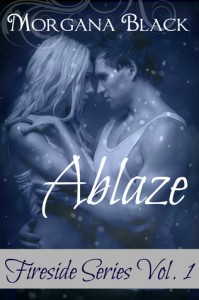 Ablaze
Series: Fireside #1
Author: Morgana Blaze
Release Date: 1/17/2014
SUMMARY
From Goodreads
Cheyenne is planning the perfect weekend with her partner to be Collin. But when the weather turns ugly she finds herself trapped in a cabin with dangerously attractive Luke, one of her father's ranch hands. When the power goes out Luke and Cheyenne make the decision to keep each other warm, in more ways than one.
MY THOUGHTS
First, this is a very short story. It is a novella that is Part One in a series by author Morgana Black.  When I mention short story, I mean "chapter-like" short story.  I can understand it being short for a series or parts, but this could have been one chapter of a novella.  With that being said, you can understand the frustration at the speed and abrupt ending the reader is left with.
Short stories need to tell quite a bit in a short amount of time. I understand that. Really, I do.  Yet as a reader, I still want parts of my story to be full and give me an experience of connection with each character. I know that is a lot to ask for, but with Ablaze, I couldn't find myself finding the footing needed to ground myself to the two characters of Luke and Cheyenne — At lease not with this small sample of a story.  When the two start to warm each other up during the snow storm, it was rushed and I still didn't find myself really excited about it.  It was rushed and then we get the big regrets from one of the involved people.  With little background on the characters, it made the connection hard for me.  I am not going to be waiting on pins and needles for the next in the series, but I am still a little curious as to see if the author will bring some background to the characters and see if a spark finally ignites for me.
MY RATING
[sc:rate2 ]