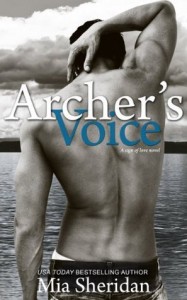 When Bree Prescott arrives in the sleepy, lakeside town of Pelion, Maine, she hopes against hope that this is the place where she will finally find the peace she so desperately seeks. On her first day there, her life collides with Archer Hale, an isolated man who holds a secret agony of his own. A man no one else sees.

Archer's Voice is the story of a woman chained to the memory of one horrifying night and the man whose love is the key to her freedom. It is the story of a silent man who lives with an excruciating wound and the woman who helps him find his voice. It is the story of suffering, fate, and the transformative power of love.
The beginning of this book held great promise for me. I was interested in the characters — even though they did seem to speak and act younger than their age of mid twenties — and I was curious about Archer being unable to speak. Throw in Archer being a recluse virgin and I was hooked.  I liked the slow development from friends to lovers. It was paced quite nicely and believable.
Then as we head into the middle of the book, we start to see a stalling of sorts. It dragged on for me and I was wanting to skip ahead past the love couple just to get to some actual plot besides love making. (let us pause to mourn the fact that I actually wanted to skip the sexy scenes *sobs*)
As we reach the home stretch and start discovering the hidden details and the true plot of the book, it seemed rushed and completely out of character for Archer. Here we have a man who has been isolated from everyone and everything for years, who has anxiety issues and can't stand for Bree to be away from him.  I am talking to the point of where he destroys his furnishings in his house and basically waits to die because her cell phone died for a day and was unable to be reached.  Then the author decides to let Archer spread his wings within the span of a chapter or so and go off into the real world alone to find himself and to see if he is capable of interacting with other people on his own. It wasn't very believable for me and disappointed me in the ending.
A book that started out with such promise for me ended up being just an okay book in the end.
[sc:rate3 ]