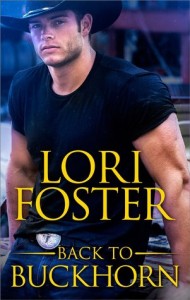 For odd-girl-out Zoey Hodge, the best thing about Buckhorn, Kentucky, was leaving it behind. And now she's back—at least until she can nurse her mother back to health and hightail it out of there anew. But there's one person she doesn't mind seeing again. Garrett Hudson was one of the few who was always kind to her. Now he's a firefighter—still one of the good guys, but with a sexy alpha charm that's tempting her inner bad girl.

In school, Zoey was smart, witty and unafraid to be herself. Garrett fell hard back then, and he's falling even faster now. As far as he's concerned, there are all kinds of reasons Zoey should stick around. Her pet grooming business. Her mom. And the chance for him to prove that he can be her real-life hero in every way that matters…
This series is the one that made me fall in love with author Lori Foster's writing. I love her Buckhorn boys! Be forewarned though that you will want to start at the beginning of this series.  Not only will starting at the beginning give you all the back story, but you will understand how each person is connected in this story.  Also, this is novella length –Amazon has it listed at 90 pages– so don't expect a huge read either.
As a person who doesn't usually enjoy quick novellas, I found that Back to Buckhorn was actually pretty good lengthwise.  It flowed better than other novellas and didn't feel rushed to me.  I loved thecharacter of Garrett and I even came to like Zoey by the end of the story.  While the plot line was pretty good, I did have some issues with it -namely that quick ending, it wasn't enough to turn me off from reading more in this series.
Again, if you haven't had the pleasure of reading any books in this series, I urge you to please start with one of the earlier books, if not at the beginning.  It can be read as stand alone, but you might find yourself a little confused at some of the character references.
[sc:rate4 ]