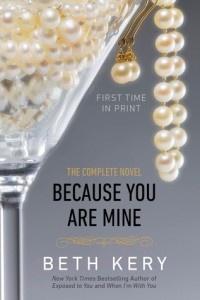 Because You Are Mine
Series: Because You Are Mine 1-8
Author: Beth Kery
SUMMARY
(From Goodreads)
When they met, the instant attraction was unmistakable…a purely, exquisitely physical charge. Succumbing to their desires is the easy part. But when passion opens the door to an intimacy neither has known, can a man known for being unbendable learn to love?
MY THOUGHTS
When this series was introduced as a serial novel and released a section at a time on Amazon, I anxiously awaited the final installment to be released.  I refuse to purchase a small section at a time and have to wait a week before we get the next one.  I want all of my story at once.  I am bad when it comes to serial novels.
I had heard that this series was hot, sexy and worth the Buy Now click on Amazon.  Sadly, I can honestly say that I wish I would have forgotten about this book.  I had to force myself to even finish reading this book.  That is a sad thing when you love to read and you have to force yourself to make it to that final page.  I could not bring myself to enjoy the dominant ways of Ian Noble.  He could be sweet at times, but overall he was a pushy prick.  Yes, I went there.  He was cold and nothing about him appealed to my romantic side.   When it came to Francesca Arno, she was the naive virgin that had so many conflicts in her character that I was getting whiplash trying to keep up with them.  One minute she is the sweet virgin unsure of herself, then the next page she is all of a sudden the sexy temptress teasing the men.  I think my eyes rolled more at the stupidity of her actions than it did in boredom.
While many people enjoyed this series, I will not be one to read it again or any future stories involving these characters.  If I had to force it the first time, I certainly won't force it again.
MY RATING
[sc:rate1 ]