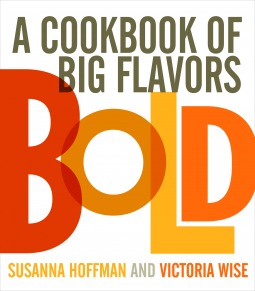 Bold: A Cookbook of Big Flavors
Authors: Susanna Hoffman and Victoria Wise
SUMMARY
From Goodreads
Bold is nourishing. Bold is inspired. Bold is food that means business. And Bold is big as in 250 recipes filled with big flavors to be served in big portions. From the culinary team of Susanna Hoffman and Victoria Wise who between them have authored or coauthored more than fifteen cookbooks including The Well-Filled Tortilla Cookbook and The Well-Filled Microwave Cookbook Bold brings together the beloved American tradition of delicious, plate-filling meals with the lively global flavors that infuse our culture and cuisine.
MY THOUGHTS
I am always on the lookout for my next favorite cookbook.  I am not a good cook when it comes to using creativity.  I have to have instructions to follow and if it comes in a box then all the better for me!  I love easy to prepare recipes and ones that can be made in big batches for plenty of leftovers or family gatherings.  I am also frugal in my ingredients and would rather use common ones instead of things you have to search all over town for to use one time.
When this book arrived, I couldn't wait to see what recipes I could try.  I opened it up and was sad to see that there were no photos of the recipes! None whatsoever unless you like looking at sketches of ingredients, bowls and cooking pans.  How are we suppose to drool over a dish and actually have the craving to make the dish without a photo? I am a visual person and what I see is what captures my interest first when it comes to food.
Another thing is there are no dividers in this cookbook. You basically just go from one section to another with no division.  Yes they stick a different colored page in there with yet another sketch of what is to come, but there really isn't any definite divider between them.
Another thing I found is this cookbook is not kid friendly in my opinion.  What kid wants to eat endives, duck legs, veal,  or leeks? So this is focused more for the adults instead of kid meals.  This also falls into the category that I mentioned above of requiring unusual ingredients to use.  While the basic ingredients are common, the main part of the recipe could be hard to find in smaller towns. I know I can't find quail or rabbit at my local grocer so those recipes are useless for me.
So for now, I will keep looking for that perfect cookbook and recommend passing on this one if you are a wary cook like me.
MY RATING
[sc:rate2 ]