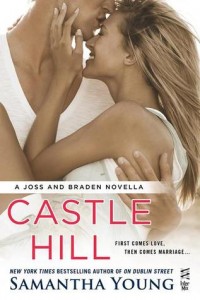 Castle Hill
Series: On Dublin Street #2.5
Author: Samantha Young
Release Date: 12/3/2013
SUMMARY
From Goodreads
A Joss and Braden Novella
Braden Carmichael never imagined he'd fall as hard and as fast as he did for Jocelyn Butler. He also could not have anticipated how difficult it would be to convince her to give in to love. But now that he has her, he's never letting go. He's got it all planned—the passionate proposal, the dream wedding, the sexy Hawaiian honeymoon—even the perfect family they'll start.
After trying to flee from her painful past, Joss is finally allowing herself to embrace the future. But when things start moving faster than she anticipated, she finds herself panicking over something Braden can't understand. After everything they've been through, Joss is sure that their love can survive even her worst fears. But, this time, she may push Braden too far—and risk losing everything all over again…
MY THOUGHTS
Castle Hill is classified as a novella coming in at 97 pages according to Amazon.  It is a short story featuring Joss and Braden from the On Dublin Streets Series.
In Castle Hill, we are taken on a quick paced journey from dating to engaged, to engaged to married, and from married to honeymoon with  juicy story all around.  I loved revisiting Joss and Braden. We get to read how Braden proposes to Joss and the planning of the wedding.  Then we flash to the wedding itself that was beautiful but not overdone in details.  Following the wedding we flash forward just a bit to the honeymoon.  After that wonderful and romantic set of scenes, we flash forward to the juicy part of the story that provides a surprise for the happy couple.  What should be exciting news ends up being the conflict of the story based on a communication misunderstanding.  Unlike before though, it is a misunderstanding  from Braden and he ends up shutting Joss out this time.
If you are looking for a sweet and quick Braden and Joss fix, then this novella is perfect for that.  We even get to see side characters as well from the series to round it all out for the reader.
MY RATING
[sc:rate5 ]