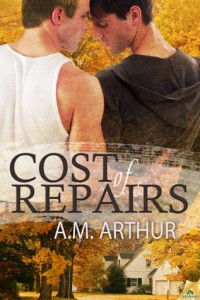 Cost of Repairs
Author: A.M. Arthur
Series: Cost of Repairs #1
SUMMARY
From Goodreads
Fixing the home can heal the heart — if you can find all the pieces.
Police officer Samuel Briggs is getting to know the people on his new, third-shift beat, but he'd prefer they not know too much about him—or the painful past that drove him away from New Mexico to start fresh in small-town Stratton, PA.
All he wants is peace, a manageable routine, and time to fix up his project home. There's no room in his broken heart for a new relationship. It's crowded with too many memories. But there's something about the Dixie's Cup short-order cook, who's flirty one minute, distracted the next, that piques Sam's interest.
Part-time cook, part-time hardware salesman and full-time handyman Rey King lives to work—but not because he loves it. Relationships? No time. Until one glance at Sam's haunted eyes sends a plumb line straight to his wary heart.
One afternoon of impulsive, no-strings sex begins to grow into a cautious friendship. But when Rey is seriously injured protecting a friend, the cracks in their already shaky foundation begin to show. Falling in love wasn't in either man's recovery plan…and this time, the risk could be too great.
Warning: Contains one emotionally wrecked cop, one angsty short-order cook, a few too many secrets, some meddling small-town folk, and plenty of hot man-on-man action.
MY THOUGHTS
Cost of Repairs is the first book in the Cost of Repairs series by author A.M. Arthur.  It is a M/M Romance with the main characters being Sam Briggs and Rey King. As the warning above mentions, there is angst and hot man-on-man action aplenty in this book.
Sam Briggs has just moved to Stratton, PA. He left New Mexico after a tragedy had him needing to get away from the painful memories. Rey King has also had some hard times and is barely making it day by day.  When they both meet, the sparks fly and they both find something they weren't looking for.  What starts out as a fling, ends up being just what they both needed in the love department.
If you are thinking this is just a book about falling in love between the two, you are wrong. This book is full of angst and the happy times are few. With that being said, the angst made this book actually work.  I found I was curious about the dark pasts of both characters.  I wanted to learn their dirty little secrets.  I wanted them both to be able to work past those things and just be good together.  While the book did slow down in parts and get a little repetitive, I found myself not really minding too much because the characters carried the story for me.  I was already curious about the two men that I didn't mind reading about the unimportant things that were thrown in.
Overall, I am pleased that I heard about this book.  I now have a new author in the M/M world to follow and to enjoy.
MY RATING
[sc:rate4 ]