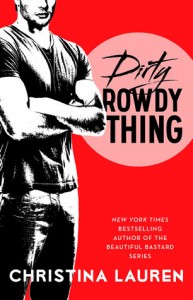 Despite their rowdy hookups, Harlow and Finn don't even like each other…which would explain why their marriage lasted only twelve hours. He needs to be in charge and takes whatever he wants. She lives by the Want-something-done? Do-it-yourself mantra. Maybe she's too similar to the rugged fisherman—or just what he needs.
After finishing the first book in this series called Sweet Filthy Boy, I was desperately in need of the next book in the Wild Seasons series by author(s) Christina Lauren. The icing on the top of the cake was that we were going to get to read about Finn. And Harlow. Finn and Harlow together!
"Shh, Poodle. I'm having a Johnny Castle, Dirty Dancing moment right now."
"Is this a good thing or a bad thing?" he asks, bending to lick up my neck.
"I carried a watermelon." — Finn and Harlow
Finn has come to town to work out some details for his family involving a TV show to save his family business. Harlow of course is annoyed by this and dreads having to run into him again after their quickie marriage and divorce.
"And, my impression of you is ever evolving, now that you aren't just a pretty face in my lap."
"You're one classy motherfucker, Finn." — Finn and Harlow
Harlow is a fixer. She fixes her friends and family when they need help, and she puts her own life on the back burner. When Harlow finds out some devastating news from her parents, she wants to fix things. She wants to make life easier for them. While in the process of overdoing it for her family, she turns to Finn for a distraction from the problems.  What we get is to see how Finn and Harlow grow into a friendly relationship and eventually fall in love. Again. They share things together that they haven't shared with others and still keep a sense of humor during the tough times of life.
The plots climatic twist wasn't as great or what I would thought should have caused the main problem for the couple to fix near the end.  Yes, it was something that pushed the book to conclude, but it just seemed a bit tame.  Even with that being said, I truly loved this book!  I am so in love with fisherman Finn and he has met his match perfectly with Harlow.  The next book in the series is suppose to be about Oliver and Lola who are also a cute couple needing a push.
[sc:rate4 ]