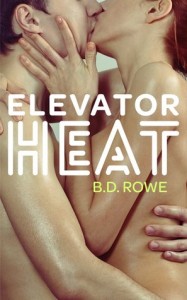 Elevator Heat
Author: B.D. Rowe
Release Date:  12/14/2013
SUMMARY
From Goodreads
Twenty-year-old Maddie has had a crush on Colin, her studly internship supervisor, for three long months. She struggles focusing on her work, and always finds herself gazing at his wavy brown hair, his chiseled cheekbones, his kissable lips. Little does she know, however, that he has feelings for her, too.
The problem is no matter how much time they spend together in the office, neither one can ever make the first move.
That is, until they both step into the old, rickety elevator late one Friday night.
And things start to get a little steamy…
MY THOUGHTS
Another case of cover love hit me when I saw this book.  I loved the steamy cover.  I liked the summary of the story.  I loathed the story itself.
This book could have been good.  For short stories, elevator sex can be a great chance to write some sexy scenes while telling quick story.  What we get with Elevator Heat though is a big mess.  We get the quick read in first person, third person and everything in between.  I started to get a headache just trying to remember whose head we were in when we actually weren't in someones head. Confused? Well so was I.  It lacked editing and had serious repetitiveness with words.
After about 2/3 of the book I gave up.  I just couldn't bring myself to finish a story that lacked connection from the characters.
MY RATING
[sc:rate1 ]
DNF