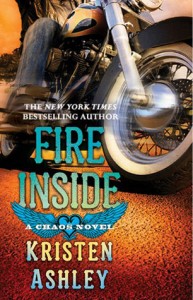 Fire Inside
Series: Chaos #2
Author: Kristen Ashley
SUMMARY
(From Goodreads)
Lanie Heron isn't looking for love—no surprise, considering her last serious relationship nearly got her killed. So when Lanie propositions Hop Kincaid, all she wants is one wild night with the hot-as-hell biker who patrols with the Chaos Motorcycle Club…
For Hop, Lanie has always been untouchable. She's too polished and too classy for his tastes. But when she gives Hop the once-over with her bedroom eyes and offers him a night in paradise, he can't say no. And he doesn't regret it when he finds that Lanie is the best thing that's ever happened to him—in or out of bed. Now the trick will be to convince her of that.
MY THOUGHTS
Fire Inside is the second book in the Chaos series — a spin off to the Dream Man series — by author Kristen Ashley.
Aahh…KA crack time.  Yes, author Kristen Ashley is a readers crack.  We crave the writing and the characters without shame.  In Fire Inside, we get to revisit the characters of Lanie Heron and Hopper "Hop" Kincaid.  It follows the same timeline as Own the Wind, but this time we get the whole story of the two instead of the glimpses we had when reading Shy and Tabby.
I have to say that while I enjoyed the character of Hop, I wasn't a huge fan of his going into this book.  He didn't have the sex appeal of the other characters that I enjoy.  By the end of the book, I fell hard for him, but I would still be shaving that mustache.  Ewww.
Lanie was pretty boring as a character.  I thought she was just too plain of a character to be involved with bad boy Hop.  To me she was a character that tried too hard, loved her temper tantrums, and had no real substance.
Fire Inside gave us a better picture at the end of the book with the showdown that happens, but there wasn't much growth in the plot.  We get a mirror view of the time line from the previous book but from different relationships.  I wanted to hear more about the plot involving Benito and the war that is happening between him and the Chaos club.
Now for the huge question that every reader of Kristen Ashley is asking — Who gets their story told next?  
MY RATING
[sc:rate3 ]