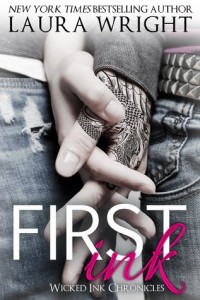 First Ink
Series: Wicked Ink Chronicles #1
Author: Laura Wright
Release Date: 12/17/2013
SUMMARY
From Goodreads
Rush
Women in his bed, celebs and rockers in his chair and a killer bank account at his disposal, life is pretty freaking swell. Then she walks back into it again. With her mismatched eyes, perfect pink mouth and a laugh that still haunts him, she gave him nothing but marvelous misery. Now she wants his hands on her again. Not for pleasure, but for pain. For Ink. A bleeding heart to match the one she left him with five years ago.
Addison
She can't forget him. No matter how hard she's tried. The pain she caused him in the past eats at her daily, and she can't move on with her life. But she has a plan, a hope for redemption – a way for him to take his revenge out on her flesh. But it'll only work if he lets her inside his exclusive world, under his famous artist's needle and into his bed—and heart-once again.
MY THOUGHTS
For it being a quick read, the author made sure to give the reader a small bit of background to help understand the why and the how to the plot and conflict of the couple.  It is pretty easy to imagine through what words we are given to piece together what happened five years ago between Rush and Addison.  Now they need to see if it is able to be fixed, or if it is a mistake to even try. Usually short stories don't have too much impact to me.  I will say though that I found the characters engaging and intriguing. There were a few minor things that were frustrating like editing and scenes that didn't flow properly.  With that being said though, I really did enjoy this short story.  I am curious to find out what happens with Vincent and Lisa.  If these books were to expand and become full length novels, I think the author has what it takes to create a perfect novel.
MY RATING
[sc:rate3 ]