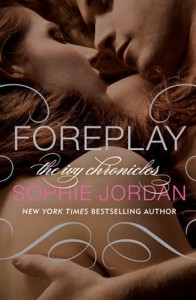 Foreplay
Author:  Sophie Jordan
Series: The Ivy Chronicles #1
Source: Publisher


SUMMARY
From Goodreads
Before she goes after the life she's always wanted, she's about to find the one she needs.
Pepper has been hopelessly in love with her best friend's brother, Hunter, for like ever. He's the key to everything she's always craved: security, stability, family. But she needs Hunter to notice her as more than just a friend. Even though she's kissed exactly one guy, she has just the plan to go from novice to rock star in the bedroom—take a few pointers from someone who knows what he's doing.
Her college roommates have the perfect teacher in mind. But bartender Reece is nothing like the player Pepper expects. Yes, he's beyond gorgeous, but he's also dangerous, deep—with a troubled past. Soon what started as lessons in attraction are turning both their worlds around, and showing just what can happen when you go past foreplay and get to what's real…
MY THOUGHTS
Foreplay is the first book in a new series by author Sophie Jordan.  Sophie Jordan is well known in the young adult genre for her Firelight Series.  Foreplay is the first book in The Ivy Chronicles geared for the New Adult genre.  The main characters are Reece and Pepper.
Pepper has always had a crush on her best friends brother, Hunter.  He is reliable, safe and cute.  With her life planned out in her head, Pepper is determined to have Hunter now that he is single.  Since Pepper has no experience with dating or with men, her friends decide to find her a man that would be able to help in that department with no strings attached.  They decide to use the town playboy that everyone has been talking about from the local bar/club.  This is where Reece enters the scene and ladies, pick your chin up and wipe the drool.  Not only is he sexy and hot, he is sweet and charming too!  He has manners and is an all around good guy.  I will say that Reece is not what you expect while reading this book.  There is a curve ball thrown in to make you rethink the mysterious aura that is surrounding Reece.  By the end of the book you will have a hard time choosing between Hunter and Reece just like Pepper.
The only reason I didn't give this book the highest rating is because it did drag in some parts of the story.  There were a few times I just wanted the author to get on with the story already and get rid of some of the 'filler' pages. This is one series though that I am excited to read more of in the future!
FAVORITE QUOTE
"You can't even see it. I'm the safest thing you'll ever find."
MY RATING
[sc:rate4 ]