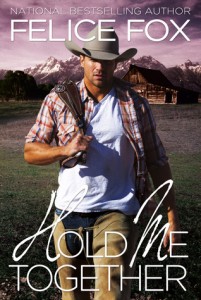 Hold Me Together
Author: Felice Fox
Release Date: 10/31/13
SUMMARY
From Goodreads
After boot-stomping all night with every last Cameron man on the ranch, Holly can't wait to get her honeymoon started with her new husband, Gavin. He's her dream come true–smart, rugged and kinky as hell, but the very best part is marrying into his big family; a close-knit, loving clan who take care of each other. She'd never had that. Ever. "Do you take this man…?" was the easiest question Holly ever had to answer.
But when Gavin poses a new, unthinkable question on their wedding night, Holly must choose between the idealized happily-ever-after she'd always dreamed of and something much more than she ever knew she wanted– or needed. Yet her happiness isn't the only thing put at risk by the unconventional arrangement she finds herself in, and when everything Gavin treasures is threatened, Holly must decide if she can give up the family she'd always wanted for the family that wants her… in every possible way.
Warning: This story may make you squirm like a little roped calf. It is a grit-your-teeth hot romance intended for an adult audience which includes questionable consent and issues of polyamory/open relationships.
MY THOUGHTS
Hold Me Together starts out with Gavin and Holly starting their honeymoon on the ranch.  They are celebrating their first night as man and wife in the beautifully decorated barn and the couple seem very happy.  She always suspected that Gavin had a dark and kinky side, but he never shared what they might be.  What she gets on her wedding night is not what she expected though.
Gavin has her list ten things she loves to have done to her sexually or things she would like to do.  He writes them above their marriage bed in chalk.  Gavin leaves the barn for a moment claiming he forgot something and leaving the door wide open.  This is after he ties her to the bed completely naked.  Gavin arrives back with his five brothers following close behind him.  After keeping it a secret until now, Gavin reveals that he plans to share Holly with his brothers sexually.  It seems Gavin and his brothers love in an unconventional way than others.  Understandably, Holly is freaked out and scared. She has been duped by her husband. Gavin tries to calm Holly down by telling her that they won't do anything she hates and only what she allows.
At this point I has having a hard time with this book.  It felt wrong to read — like I was reading a rape scene.  They all stare and fondle her while she is saying no and stop.  This isn't a sex scene playing out, but clearly a woman who is not wanting to participate.  If you don't like that type of scene, then be forewarned.
The next day Holly is still trying to come to terms with everything.  Gavin insists on passing her around to his brothers.  While she is terrified of the sharing — felling unfaithful to her husband — the brothers take their turns enjoying her.  First we have the fun and assertive Luke.  Then shy McKenna gets his chance a few days later.  Brody "The butt man" enjoys his chance in the kitchen as Gavin watches.  The out in the rain drenched muddy walk, violent role player Abel who is dark and menacing gets his chance.  After her encounter with Abel, their father Hank figures out what has been going on.  He gets upset and blames Holly for everything.  He tells Gavin to take her and to leave the ranch. This is when McKenna announces that he loves Holly. A storm keeps them from leaving the ranch and they are forced to stay another night.  This is when Gavin and Holly finally get their chance to seal their marriage vows.  After Hank has a an accident the next morning, he is rushed to the hospital.  When he gets the all clear from the doctors to return home, he has a talk with Holly after she has helped keep the ranch running while he was sick.  He tells her that he will accept the situation if it is kept private and they all get their Happily Ever After.
I was not a fan of the rape like scenes or the fact that Gavin kept this a secret until the wedding night.  Plus, Holly falls in love way too quickly with each man and is just expected to accept it.  I had a hard time believing in this romance and wasn't impressed by any of the characters.  I had to force myself to even finish this book.  I found the cover and the summary to be vague and misleading for most of the story told.
MY RATING
[sc:rate1 ]