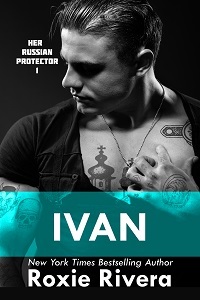 Desperate to find her sister, Erin goes to the only man in Houston who can help her–Ivan Markovic. The intimidating, tattooed Russian operates one of the most elite mixed-martial arts training centers in the world but it's his shadowy past and reputed connections with Houston's underworld that interest her most.

To find her sister, she'll need the help of her big, scary Russian protector—but asking for help from a man like Ivan carries a steep price, one that might just include her heart.
What was the reason I started this one? Oh yes — it was a free read.  I am not a huge lover of novella length.  Short stories never can cut it in the romance department for me because it is always instant love. I want build up. I want to learn about the history of the characters. I am not a fan of being complete strangers in chapter one and falling madly in love by chapter two. Yet I found myself clicking on the download button and reading it.
Ivan held great potential.  The first few lines of the book even lured me in and hooked me right away. It could have been great. Then we have the instant love and weak story unfold. The ending didn't even end on the right foot for this reader.  It was over, but it wasn't. There was more to the story that was needing to be told, but part of the story was somewhat settled.  It left me on the so-so fence of my feelings for this short book.  The secondary characters seem interesting enough for me to possibly read another in the series, but probably only if they are free reads again.
"Be careful what you ask for, Erin," Ivan warned. "I'm not the kind of man to walk away from something I want." His thumb caressed the side of my neck. "One taste of you and I won't be able to let you go." –Ivan
[sc:rate2 ]