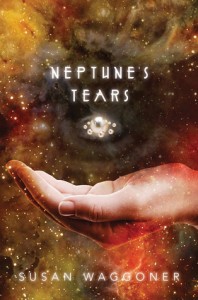 Neptune's Tears
Series: Timedance #1
Author: Susan Waggoner
SUMMARY
(From Goodreads)
London, 2218 A.D. Seventeen-year-old Zee is an intern empath. She's focused on her job, poised for a great career—until one day an attractive patient undoes her hard-earned calm. As an empath, she cannot afford such distractions, but neither can she stay away from David, even when she discovers he's one of a mysterious alien race. As London comes under attack by anarchist bombings, and as Zee struggles to get a handle on her unusually strong psychic abilities, David starts pulling away. Although Zee's sure he's attracted to her, David has secrets he cannot share. But it's too late for Zee. She's losing her heart to the gray-eyed alien boy, and she's determined to follow him—no matter how far it may take her.
MY THOUGHTS
Neptune's Tears is the first book in the Timedance series by author Susan Waggoner.
Hmm.
*scratches head*
Think. Think. Think.
How do you write a review on a book that you are still trying to figure out.  A book that leaves you wondering what the heck you just read.
This book is set in the future with dystopian highlights along with science fiction and paranormal.  IT became a mash-up of sub genres that left me confused and wanting to scream.  Yes, this can usually work for some stories, but with this one it did not.  I felt that the book couldn't settle down long enough to find its place in the right sub genre.
The characters were just okay, not ones that left me wanting more from them by the last page though.  I really wished this story had brought the amazing that the cover did.  Science Fiction enthusiasts will more than likely gobble this story up, but readers who are not accustomed to it as a usual read will more than likely skip over it.
MY RATING
[sc:rate2 ]