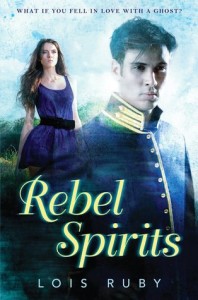 Rebel Spirits
Author: Lois Ruby
SUMMARY
(From Goodreads)
Infused with history and mystery, this tale of ghosts, love, and murder takes place in present-day Gettysburg, where the Civil War still looms large.
Lori Chase doesn't know what to think about ghosts. She may have seen a few in the past, but those were just childish imaginings…right? Only now that she is living in Gettysburg, Pennsylvania, spirits seem to be on everyone's mind. The town is obsessed with its bloody Civil War history, and the old inn that Lori's parents run is supposedly haunted by the souls of dead soldiers.
Then Lori meets one such soldier–the devastatingly handsome Nathaniel Pierce. Nathaniel's soul cannot rest, and he desperately needs Lori's help. Because Nathaniel was not killed in the famous battle. He was murdered. Lori begins to investigate the age-old mystery, stumbling upon shocking clues and secrets.
At the same time, she can't help falling for Nathaniel, just as he is falling for her…
MY THOUGHTS
As I ventured into reading this tale of ghosts, warriors, love and sacrifice, I realized that this book is the perfect book for the preteen crowd.  It introduces the paranormal romance and ghostly characters that still keep it tame enough that the younger generations should feel like they are being introduced to theses things for future books.  I felt this story and mystery kept a younger reader interested enough to want to finish the story path that the characters are on.  The book is focused towards the Tween level but could also be used as a stepping off point to start reading darker and more books that handle darker things.
While I felt this book was written well, I still find the younger generation of tweens enjoying it better before jumping into the darker stuff that is further ahead in this genre.
[sc:rate3 ]
3/5