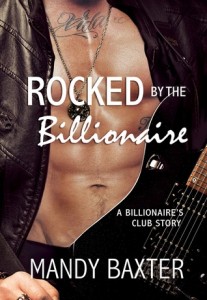 Bad-boy Luke "Lucifer" Blackwell is living the life. Being the lead singer for the rock group Riot 59 has brought him everything he could ever want—billions of dollars, endless parties, and enough groupies to last a lifetime. But when Luke's wild life starts to wear him down, he returns home to Texas—and ends up in the arms of the one woman who's always made his heart beat faster than a pounding drum…Kayleigh Taylor likes being a small-town girl, so she's always been wary of Luke Blackwell's fast-paced life—and of Luke himself. Fully expecting never to see the sexy singer who broke her heart years before, Kayleigh is completely shocked to find him back home, avoiding the spotlight and pursuing her instead. Kayleigh knows this can't be right–his heart was always devoted to his music. But as they spend more and more time together, Luke is awfully convincing that his heart belongs to someone else… 
This is book 3 in The Billionaire's Club Series.
First of all, can we all take a moment to drool over this cover!
*drools*
Okay, now that the drooling is over with we can get to the review.
A second chance romance involving rock stars had me eager to read this story.  I admit that I didn't know it was part of a series at first. While I wouldn't say you have to read the other books, I did find that if I had read them, this story and characters may have been better liked.
I have to say that I wasn't a huge fan of this book. While the writing was okay, I just couldn't click with the characters enough to enjoy their story. I don't know if it is the "billionaire burnout" or if this series just isn't for me.  If this book would have had a bit more dialogue instead of descriptive and over telling of narrative words, I think this book would have been a bit better for me.  I felt held down by all of the filler text.  Out of the two characters, I would have to say that Luke was my favorite — mainly because he is described as a hot rock guy who is sexy.
I think I am going to start at the beginning of this series and give it a try again after I finish the first two.
[sc:rate3 ]