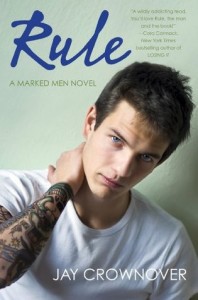 Rule
Series: A Marked Men Novel #1
Author: Jay Crownover
Release Date: 10/22/2013
SUMMARY
From Goodreads
Opposites in every way . . . except the one that matters
Shaw Landon loved Rule Archer from the moment she laid eyes on him. Rule is everything a straight-A pre-med student like Shaw shouldn't want—and the only person she's never tried to please. She isn't afraid of his scary piercings and tattoos or his wild attitude. Though she knows that Rule is wrong for her, her heart just won't listen.
To a rebel like Rule Archer, Shaw Landon is a stuck-up, perfect princess—and his dead twin brother's girl. She lives by other people's rules; he makes his own. He doesn't have time for a good girl like Shaw—even if she's the only one who can see the person he truly is.
But a short skirt, too many birthday cocktails, and spilled secrets lead to a night neither can forget. Now, Shaw and Rule have to figure out how a girl like her and a guy like him are supposed to be together without destroying their love . . . or each other.
MY THOUGHTS
I have been seeing good things about the Marked Men Series by author Jay Crownover.  I was anxious to start the series and see what the hype was all about.  The first thing I want to say is that the guy on the cover that is suppose to represent Rule, fits the image in my head except for the lack of piercings he is suppose to have.  With that in mind, I beg that they never change the cover image since it was done perfectly this time!
The two main characters in this story is Shaw Landon and Rule Archer.  Shaw is the typical blond and beautiful virgin heroine.  She comes from money and her parents are paying her tuition for college.  They will use this said bribery of college payments to try and keep her in line and even use it to keep her from Rule.  Oh and they will even push another boy into the picture as her boyfriend whether she wants him or not.  *insert eyeroll*  In case you can't tell, I was not a fan of Shaw Landon.  I didn't like her attitude, her behavior, and most of all her better than thou persona.
Then we have Rule Archer.  Rule lost his twin brother, Remy, years ago.  His brother happened to have been best friends with Shaw when he was alive. Everyone believed that Shaw and Remy were a couple even though she told everyone they were just friends.  Come to find out, Remy was believed to be the golden boy even with secrets of his own that were hidden from all of the family including Rule.  Rule was the black sheep of the family.  He is a tattoo artist with his own tattoo's covering his body.  Throw in a bunch of piercings — including ones in the, uh-hum, private area — and a new hairdo color and cut each week, and you have the typical bad boy.  Plus we can't forget the revolving door of women each weekend in his bed as well.  I liked Rule in this book.  He didn't care what people thought of him and didn't put up with crap from anyone.  Rule has had no clue that Shaw has been in love with him since the first day they met.  Everyone else could see the hearts in Shaw's eyes except Rule.
When these two finally hook up, not much really happens between the two.  There are a few plot progressions that lead to problems in the relationship, but not too big of ones that the reader is left with their jaw dropped.  I found the story to just be okay and needing an infusion of thrills to make it a real winner.  I am intrigued though by the side characters in the story and will more than likely continue in the series to see how their stories will play out.
MY FAVORITE QUOTE
"Look I have somewhere I have to be and I don't particularly love that I have to go, but you freaking out and making a scene is not going to do anything other than piss me off. I hope you had a good time last night and you can leave your number but we both know the chances of me calling you are slim to none. If you don't want to be treated like crap maybe you should stop going home with drunken dudes you don't know. Trust me we're really only after one thing and the next morning all we really want is for you to go quietly away. I have a headache and I feel like I'm going to hurl, plus I have to spend the next hour in a car with someone that will be silently loathing me and joyously plotting my death so really can we just save the histrionics and get a move on it?"  —- Rule Archer, page 5
MY RATING
[sc:rate3 ]