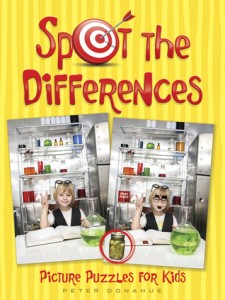 Kids can play detective with 25 pairs of similar-looking color photos. They'll compare the unaltered originals on the left to the ones on the right, which include several subtle changes. Suitable for ages 6 to 10, the kid-friendly illustrations depict slumber parties, birthday get-togethers, and other lively situations. Complete solutions appear at the end.
Before I begin, I want to point out that this book was an e-book format.  This is a very important detail that influenced my rating.  Usually I love puzzles.  I remember competing with my brother when we were younger with Where's Waldo?. I love hidden object games that I play online as well.  So when this title came up for review, I was excited to try it out!  When I downloaded it to my Kindle though, it was a big mess of chopped up pictures and blank pages galore.  There was no way to actually enjoy the search for hidden differences.
Then that brings up the question of if it did work on my Kindle, how would someone go about keeping track of the differences? It is not like we can draw on our Kindle screens for a book?
With that being said, as a print book this might be a great one to keep your eyes and brain sharp.  If you could physically mark the pages with a pencil or pen, then a child would possibly enjoy this as a gift, or even a road trip activity. As an e-book though, pass on the disappointment.
[sc:rate1 ]