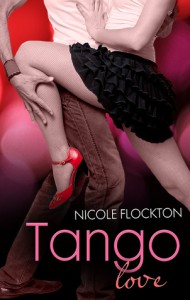 Tango Love
Author: Nicole Flockton
Publisher: Escape Publishing
Expected Release Date: January 1, 2014
SUMMARY
From Goodreads
A sexy short story about being in love with your best friend — and discovering it takes two to tango.
Melinda Jones has been in love with her housemate, James Brady, since he moved in…but she has no intention of ever telling him. Except it seems James has his own plans…and they include asking her to share a sexy tango — then a little dirty dancing in his bed.
For Melinda, it's the best night of her life…until she wakes up alone the next morning. Is she destined to spend her life dancing by herself, or will James step up to be the partner of her dreams?
MY THOUGHTS
Ah…the classic trope of friends to lovers.  This happens to be a favorite of mine in the romance genre.  Coming in at 45 pages, Tango Love is a quick and steamy read featuring housemates Melinda Jones and James Brady.
Even though this is a short story — something I don't usually like — the author did a wonderful job in telling the love story for Melinda and James.  Is it long enough to satisfy the reader? Maybe not, but at least the story was believable in the short story theme.   I think this book would have rated higher for me if it were a full length novel.  If we could have seen more back story and interaction before the big Tango Dance between the two, this story could have been even better.
Hopefully author Nicole Flockton will consider writing a full length novel featuring these two characters for us soon!
MY RATING
[sc:rate4 ]