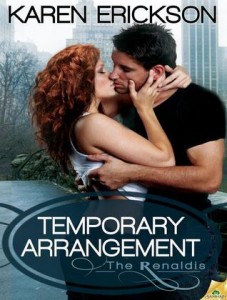 Temporary Arrangement
Series: The Renaldis #0.5
Author: Karen Erickson
SUMMARY
(From Goodreads)
"Look, but don't touch "
"The Renaldis"
Alone and broke, Paige Stewart can t believe her good luck. Who hires a virtual stranger out of a New York City coffee shop to care for their adorable grandson? Apparently Claudia Renaldi does.
Widower Matteo Renaldi isn't pleased that his mother found a replacement nanny so soon after he fired the last one. Yet little Matty takes to Paige like no other nanny before. And Matteo can t deny he s quite taken with her as well. She's beautiful. Sweet. And far, "far" too young for him.
There's something about the gorgeously sexy Matteo that fills Paige with longing to break through his wall of formality and touch his softer side. But no one knows better than she that crushing on her boss is one thing. Acting on those feelings is forbidden. Foolish.
Inevitable
Warning: Sexy, grumpy Italian hero who is determined to keep his walls up. No matter how much his son s sweetly beautiful nanny drives him to distraction
MY THOUGHTS
Temporary Arrangement is officially listed as a 0.5 length novella.  This is basically a prequel to the main story that releases soon.  A bunch of people seemed to be upset about this and didn't know that the story was going to be short and without a finished ending.  I knew this going into the story so it wasn't a problem for me knowing ahead of time.
I loved the characters in this book.  This is the set up story on how Paige acquires the nanny position with Matteo Renaldi.  There are some steamy scenes near the end and it does end rather abruptly.  Again, this is a prequel to the true novel that is going to be released.
I hope in the next read, we get to learn more about the history of Paige's previous employer, Matteo's relationship with his deceased wife, and much more!
This is one story that I am looking forward to reading more about!
MY RATING
[sc:rate4 ]