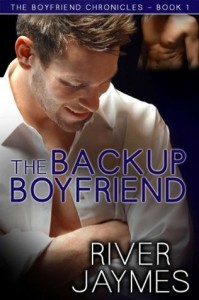 The Backup Boyfriend
Series: The Boyfriend Chronicles #1
Author: River Jaymes
Release Date: 11/28/2013
SUMMARY
From Goodreads
Professionally, Dr. Alec Johnson has almost reached his goals. As this year's recipient of a humanitarian award with his ex, Dr. Tyler Hall, Alec's work with the homeless is about to be recognized. Unfortunately, his personal life sucks because now he has to attend several events alongside Tyler—with his ex's new boyfriend in tow. In an attempt to lift his mood and break out of his rut, Alec purchases a motorcycle he has no idea how to start.
Dylan Booth doesn't have time for Dr. Clueless and his fickle 1964 Harley, but the cocky mechanic can't say no to the request for help. Having spent his teen years on the streets, and losing his best friend to HIV, Dylan decides teaching the do-gooder how to ride is the least he can do. But watching Alec flounder in his ex's company throws Dylan into protector mode, and the confirmed hetero introduces himself as Alec's new boyfriend.
The ex suspects Dylan is lying.
Alec claims Dylan's plan is insane.
And Dylan's not sure he can fake being gay.
But he's a master bullshitter, and the phony PDA soon turns ultra-hot. Alec can't afford to get attached, and Dylan's learned everyone eventually leaves. Unfortunately, playing the backup boyfriend is starting to feel way too real…
CONTENT WARNING: This book contains Man-on-Man action, adult situations, and language.
MY THOUGHTS
"I wouldn't miss this fake-homo show for all the Gucci Shoes on Rodeo Drive." 
That sums up the book for me. I heard everyone buzzing about The Backup Boyfriend by author River Jaymes and everyone kept telling me to go buy it.  So I finally caved and bought it for myself to see what all the hype was about.  Readers, you do not want to miss out on reading this book!
Alec Johnson just lost his two year boyfriend to another man.  So what does any sane Doctor do when this happens? He goes out and buys a motorcycle.  Not a brand spankin' new one, but one that needs some TLC.  Enter Dylan Booth, aka HOT STUFF, into the mix.  Alec takes his bike to Dylan to repair and to teach him how to ride.  Out of the gutter readers! We are talking about riding lessons on the bike.  (The other rides come later in the story.)  Reluctantly, Dylan decides to go ahead and help Alec with the riding lessons and fixing up the bike.  When he meets Alec at his house to get started, he has the pleasure of meeting Tyler, Alec's ex boyfriend.  Tyler just happens to be arriving to pick up the last of his stuff and also brought along his new boyfriend.  Dylan feels bad for Alec and becomes protective of his feelings.  Alec reminds him of a childhood friend that he protected on the streets and end up losing to HIV/AIDS five years ago.  This is where the setup of the Backup Boyfriend comes into play.  Dylan pretends to be Alec's new boyfriend much to everyone's surprise.
What happens is sexual tension, playful banter, outrageous scenes of humor and plenty of romance that will have you sighing with happiness.  Another reason I loved this book is the fact that it addresses the issue of labels.  We are constantly putting names to things such as gay, bisexual, etc.  What I like about Dylan in this book is he doesn't like those labels. It is not that he doesn't want to accept that he is bisexual or gay, he just wants to be himself with no category that he should fit in.  Love isn't something that can be defined and put away neatly in a little box with a label on it and people shouldn't classify it as such.  Plus his sarcastic humor was a blast to read whenever he was within five feet of their mutual friend Noah.
Personally, I can't wait for more of this series. I have already added her previous work to my wishlist to buy soon. Author River Jaymes is an author that everyone needs to watch.
FAVORITE QUOTES
Dylan stared at a well-dressed, clean Alec holding the baby with a sizeable line of drool now hanging from her mouth, dangling in the air. Seriously, someone needed to shut the main water line off and fix that horrific leakage problem.

"What the hell were you thinking, Dylan?"
Dylan's face burned, and he secured the towel tight around his waist as several sarcastic replies came to mind.
I was tired of playing for the same team.
I suddenly had the urge to experience life as the little spoon.
I wanted to be able to wear the You Suck, And I Like That In A Man T-shirt you gave me.
MY RATING
[sc:rate5 ]