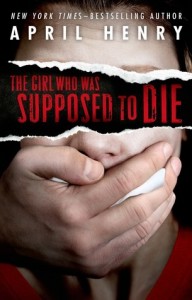 The Girl Who Was Supposed To Die
Author: April Henry
SUMMARY
(From Goodreads)
"Take her out back and finish her off."
She doesn't know who she is. She doesn't know where she is, or why. All she knows when she comes to in a ransacked cabin is that there are two men arguing over whether or not to kill her.
And that she must run.
In her riveting style, April Henry crafts a nail-biting thriller involving murder, identity theft, and biological warfare. Follow Cady and Ty (her accidental savior turned companion), as they race against the clock to stay alive.
MY THOUGHTS
Since I have read Girl, Stolen by this author in the past, I kind of knew what type of story I was going to read about.  Author April Henry loves to create suspense, drama, and thrills while throwing a little bit of what-the-heck and sympathy for the wrong people into one plot.  In a nutshell, author April Henry is amazing.
This was a read that was start to finish without taking breaks.  I couldn't take any breaks because I was too engrossed in the thrill ride.  Then when it ended, I wanted to turn around and read it again.  Cady and Ty's story will leave you hurt, angry, excited, hopeful and mesmerized.  While the ARC copy came in at 213 pages, it still felt too short for this reader.  The ending approached way too fast and I wanted it to keep going.
This author is wonderful in creating a story in which will leave you guessing while you fall in love with the writing, characters and plot.
MY RATING
[sc:rate4 ]
AUTHOR WEBSITE / GOODREADS / AMAZON