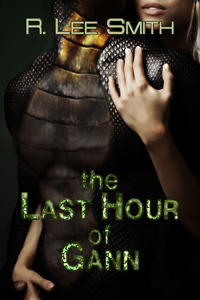 The Last Hour of Gann
Author: R. Lee Smith
Release Date: 9/12/2013
SUMMARY
From Goodreads
It was her last chance:
Amber Bierce had nothing left except her sister and two tickets on Earth's first colony-ship. She entered her Sleeper with a five-year contract and the promise of a better life, but awakened in wreckage on an unknown world. For the survivors, there is no rescue, no way home and no hope until they are found by Meoraq—a holy warrior more deadly than any hungering beast on this hostile new world…but whose eyes show a different sort of hunger when he looks at her.
It was his last year of freedom:
Uyane Meoraq is a Sword of Sheul, God's own instrument of judgment, victor of hundreds of trials, with a conqueror's rights over all men. Or at least he was until his father's death. Now, without divine intervention, he will be forced to assume stewardship over House Uyane and lose the life he has always known. At the legendary temple of Xi'Matezh, Meoraq hopes to find the deliverance he seeks, but the humans he encounters on his pilgrimage may prove too great a test even for him…especially the one called Amber, behind whose monstrous appearance burns a woman's heart unlike any he has ever known.
WARNING: This book contains graphic violence, strong sexual content and explicit language. It is intended for mature readers only.
MY THOUGHTS
Wow. What the heck? Scales? Lizard men? Wait…this is suppose to have a romance involved? With LIZARD MEN!?
That was my reaction to reading everyone else who left a review of this book.  Every person I talked to told me to have faith in the author and the story. I still could not wrap my head around how humans and lizard men were suppose to fall in love or even attempt to the naughty.   Then I had to come with the realization that this book is long. Not an extra day long, but try an extra week or two long if you have work and kids at home.
I am not going to recap the entire story for you because of length and all the other reviews that are out on this story.  I will say though, Lizard men can be worth reading about.  Meoraq was a good guy/lizard and paired nicely with Amber who was nice and fierce.  Every single woman in this story was weak except for Amber.  She was strong woman and deserving of Meoraq.
I truly enjoyed everything about this book except the ending.  There are rapes scenes in this story, but the author handled them well.  They aren't just scenes thrown in, they are scenes that are needed to tell the story and way of life of the Lizard men.  The thing that lowered the rating was how some things were left unanswered or left open.  Does the baby turn out okay? Do the Oracles accept what Meoraq has to say? Is the way of life changed enough to accept a different world to begin?  And can someone please find me one of those bots that clean things up daily, because my housework has lacked since reading this book. Be prepared for the long haul when starting this story!
MY RATING
[sc:rate4 ]