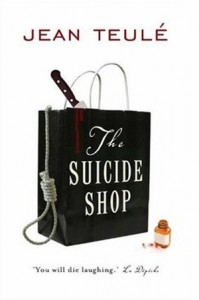 The Suicide Shop
Author: Jean Teule
SUMMARY
(From Goodreads)
Has your life been a failure? Let's make your death a success With the twenty-first century just a distant memory and the world in environmental chaos, many people have lost the will to live. And business is brisk at The Suicide Shop. Run by the Tuvache family for generations, the shop offers an amazing variety of ways to end it all, with something to fit every budget. The Tuvaches go mournfully about their business, taking pride in the morbid service they provide. Until the youngest member of the family threatens to destroy their contented misery by confronting them with something they ve never encountered before: a love of life.
MY THOUGHTS
I had no idea what to expect when I received this book.  Is it a mystery? Then I read the summary. So then it's  a comedy?
Then I realized it was a black comedy. Still not sure what I am talking about? Well here is the definition online:
Black´ com`e`dy    (blăk´ kǒm`ĕd`ŷ)
| | | |
| --- | --- | --- |
| n. | 1. | (Drama) a comedy that treats of morbid, tragic, gloomy, or grotesque situations as a major element of the plot. |
So in other words, I was going to read a book that made fun of death.  Well considering I was the one who visited the funeral home on my career day in high school, I figured I would give it a try.
"HAS YOUR LIFE BEEN A FAILURE? LET'S MAKE YOUR DEATH A SUCCESS!"
Yes, that line made me laugh.  The movie, "Beetlejuice" came to mind several times as well when I was reading this book.
Now I also want to point out that this book is originally in French.  Gallic Books, a publishing house based in London,  translated it and published it in English.  Some readers might be able to pick up on that while reading the book.
This book had me laughing when I knew I shouldn't be laughing, but it is one of those reads that just do that to you.  When civilization is nearing the end, and the human race is in a state of depression, why not make fun of death and come up with creative ways to end one's life?  See what I mean? Suicide and death is nothing to laugh at, but the way this is written, you forget that at times — which is why it is classified as dark humor.
So since this is not a book I would usually read, I am so thrilled to have had the chance to read it. Give it a try and see if you can stop a smile from appearing on your face when it isn't suppose to.
MY RATING
[sc:rate3 ]