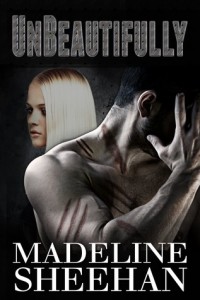 Unbeautifully
Series: Undeniable #2
Author: Madeline Sheehan
SUMMARY
(From Goodreads)
Warning: This is not a story about fate or destiny. This is a story about pain, sorrow, and suffering. This is an impulsive whirlwind romance between two lovers that are not meant to be together. Theirs is not a world with sunshine and roses. Instead, their love blossoms in a secret world full of crime, violence, and death. Their story is about what can be born from nightmares.
Danielle "Danny" West is the daughter of Deuce West, President of the Hell's Horsemen Motorcycle Club. A sweet and beautiful girl, she loses her way, searching for things that are always out of her reach. Erik "Ripper" Jacobs is the Sergeant of Arms in the Hell's Horsemen. Once a man who always had a smile on his face, his life takes a turn for the worst when a tragedy befalls him, leaving him scarred and broken. During a midsummer night, Danny and Ripper's paths cross, forever changing their lives. Hastily, their lust turns to love until another tragedy forces them apart. On a journey that is marred with ugliness and chaos, Danny and Ripper must discover if their unforeseen connection can find the beauty in their world.
This is Danny and Ripper's story.
Everything has beauty. Even the ugly. Especially the ugly.
Because without ugly, there would be no beauty.
MY THOUGHTS
Unbeautifully is the second book in the Undeniable series by author Madeline Sheehan.  The main characters involved are Danielle "Danny" West and Erik "Ripper" Jacobs.  Characters from the previous book also have their POV told in separate chapters as well.
I absolutely loved the first book in this series.  I understand that many people had a hard time with the first book, but I went with the flow and was thrilled to read Undbeautifully.  The first book did have its problems, but overall I was on the side of the fence that was desperate for more.
In Undbeautifully, we get to read about Ripper.  *sigh* Our disfigured — yet still sexy! —  hero that has tons of dark emotions to go with it.  What Ripper went through in the previous book is definitely a key point in this installment.  He has been placing blame on several people for that one action even though he has tried to keep it to himself.
Danny is what you would find in a typical new adult.  She is an adult, but in ways you can still see the teenager in her actions and appearance.  She still wears the pink, hangs with her friends, and even has the attitude of a teenager.  Even though she is now of age, you can tell she has had to grow up fast.  When prom arrives, she doesn't feel like staying.  Ripper shows up to take her home but instead they go for a bike ride out to a lake.  She ends up getting drunk and seducing Ripper.  That one act turns both of their lives upside down.  It spirals into lust, love, drama and a hard road for both of them.
Like it is mentioned above, this is a story about pain, sorrow, and suffering.  It is gritty, has touchy subjects, but there is light inside the dark.  I fell in love with Ripper with this story.  I ached for him. I wanted him to have a happy ending, but they both needed to have forks in the road of life.  Author Madeline Sheehan gives us those forks in the road and I can honestly say it was worth it.  It made the ending so much better.  There is a bit of a time jump and the author explains why and how at the beginning if the book.
Again, this book will be either a love it or hate it for most readers.  It is going to be one where it is hard to fall in between those two fences.  I also definitely recommend reading the first book in the series to get the full effect of the characters.  Personally, I can't wait for book three!
MY RATING
[sc:rate5 ]