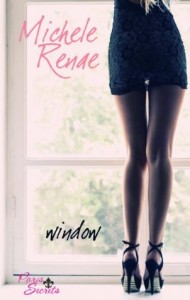 Window
Series: Paris Secrets #1
Author: Michele Renae
Release Date: 11/25/2013
SUMMARY
From Goodreads
An erotic romance behind glass
The first time she sees her new neighbor, his sexy smile arouses her curiosity — and her desires. His hard, chiseled muscles and playful invitations are irresistible.
Bared before their windows, framed and displayed above the streets of Paris, they embark upon a provocative affair.
Their daring game of exhibitionism lures her back for more and more, and she quickly realizes he is the man she has dreamed about.
Yet she's never heard his voice. Never felt his touch. Never thought she'd experience something this exquisite.
Or this bold…
Paris Secrets
Do you dare?
MY THOUGHTS
Window is the first book in the Paris Secrets series by author Michele Renae.  It is an erotic tale of two strangers exposing themselves through their windows performing an art of exhibitionism for the public if caught.
I truly wanted to enjoy this book.  I tried and tried to read it.  I would pick it up, read some, then have to put it down.  I ended up taking a full week to finish a book that should have only taken me a day — two at most.  I think the main problem I had with this book was how long winded the writing was.  The author would start with one thing and go off on several other subjects in detail.   In other words, most of the story is "filling" and not necessarily needed to enhance the tale.
While some readers might enjoy this sort of story and erotic telling, I for one got bored too many times to count.  This book barely made it out of the DNF category for me.
MY RATING
[sc:rate1 ]