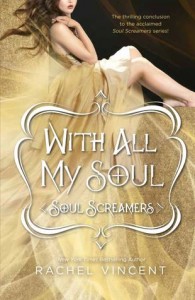 With All My Soul
Series: Soul Screamers #7
Author: Rachel Vincent
SUMMARY
(From Goodreads)
What does it mean when your school is voted the most dangerous in America? It's time to kick some hellion butt…
After not really surviving her junior year (does "undead" count as survival?), Kaylee Cavanaugh has vowed to take back her school from the hellions causing all the trouble. She's going to find a way to turn the incarnations of Avarice, Envy and Vanity against one another in order to protect her friends and finish this war, once and forever.
But then she meets Wrath and understands that she's closer to the edge than she's ever been. And when one more person close to her is taken, Kaylee realizes she can't save everyone she loves without risking everything she has….
MY THOUGHTS
It is safe to say that if there is a new book in this series, then I will be reading it.  I am a HUGE Tod fan and I can't get enough of him. Sure this series is suppose to have Kaylee as the main character, but for me, Tod is the one I zero in on.  This author could write about Tod just sleeping and I would read it several times. I am also in a slight depression upon reading the last page because it is suppose to be the last book in the series.  I hate it when a series I love comes to an end.
Moving on….
Kaylee has grown so much from where she was in the first book.  Even with everything she has been through, I feel that the author made her grow but not waiver from her true self.  Nash use to be my favorite — until Tod really came into focus– and while I don't agree with some of what he has done in this series, he is still Nash through and through. Sabine is still a girl I want to shoot daggers at with my eyeballs.  She has never ranked high in my opinion but when a plot calls for "her type" we roll with it.  I won't even start in on how much I loved Tod in this one because there just isn't enough words to describe it.  I will say that the ending will definitely leave you in tears.
While I can see the same pattern of Kaylee making decisions that wanted me slapping her, we do know by book seven that she does them for the right reason — at least what SHE thinks is the right reasons.  Again, just go with the flow because it works.
I am sad to see this series come to an end. I want more, but every good thing has an ending somewhere.  Where this author left the ending was perfect.  Touching and fitting are just two words that sum it up at the end.  While it was a wild ride full of humor, wit, suspense, romance and drama, I can honestly say it was a ride I am glad I jumped on.
MY RATING
[sc:rate5 ]