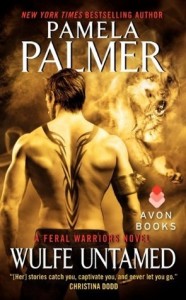 Wulfe Untamed
Author: Pamela Palmer
Series: Feral Warriors #8
Publisher: AVON
Expected Release Date:  1/28/2014
SUMMARY
From Goodreads
They are called Feral Warriors—an elite band of immortals who can change shape at will. Sworn to rid the world of evil, consumed by sorcery and seduction, their wild natures are primed for release…
The most enigmatic and tortured of the Feral Warriors, Wulfe is haunted by the quiet beauty of a human woman who no longer remembers him. Once a captive of both the Mage and the Ferals, Natalie stole a piece of his heart before he took her memories and sent her safely back to her fiancé. But now the Mage are threatening her again, and Wulfe will risk anything to protect her.
Natalie Cash is stunned when she's saved by a wolf who shifts suddenly into a splendidly built, if badly scarred, man, a man with the kindest eyes. Swept into a world of intrigue and danger beyond her comprehension, she turns to the powerful Wulfe, finding a passion she'd only dreamed of. But when time runs out, they must trust one another and surrender to a wild, untamed love.
MY THOUGHTS
First of all, can we just take a moment to mourn the fact that this is the last book in the Feral Warriors series? Seriously Ms. Palmer? How could you do this to us?!
Now that we have that over with, let us continue on.  Wulfe Untamed is book #8 in the Feral Warriors series by author Pamela Palmer.  The main characters are Wulfe and Natalie Cash.  Characters from previous books are featured as well.
I was anxiously waiting for this book to arrive in my inbox.  I love, love , LOVE this series and the writing.  Ms. Palmer is an amazing author and has created a rich fantasy world featuring these Alpha animal shifters.  While this book could be read as a stand alone if the reader is just dying to start with book eight, I wouldn't recommend it.  To get the full effect of the world the author created — and the plot itself — starting with book one in the series is best to avoid confusion.
In this book, the Ferals are starting to feel the full effect of the evil created by Satanan and Inir. One by one, the Ferals are losing their animal spirits and are no closer to figuring out how to stop the evil two.  As each warrior loses the animal spirit, Inir is one step closer to releasing Satanan into the human world for mass destruction.  Natalie is involved in this as well now that Wulfe healed her wound in the previous book. She is now a key — or conduit for better understanding — for the Inir and Satanan to use.
While this book was good and one I was looking forward to, I will say that it was quite confusing at times even for someone who has followed this series since book one.  Also, the ending was sort of rushed and not too exciting.  We have this big build up in story for seven books and when we reach the conclusion in book eight, it is resolved too easily and too quickly.
The epilogue was touching and beautiful.  I am sad though that we don't get to get stories for the other Ferals who had developing stories of their own throughout these books. I need to know what happens to the rest of them! <—- Pay attention Ms. Palmer!!!
Overall the series as a whole was great, amazing and action packed! The book as it is was just okay though with repetitive story, confusion and too quick — if not easy — ending.
MY RATING
[sc:rate4 ]