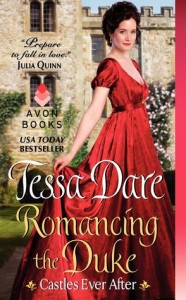 As the daughter of a famed author, Isolde
Ophelia Goodnight grew up on tales of brave knights and fair maidens.
She never doubted romance would be in her future, too. The storybooks
offered endless possibilities.

And as she grew older, Izzy crossed them off. One by one by one.

Ugly duckling turned swan?
Abducted by handsome highwayman?
Rescued from drudgery by charming prince?

No, no, and… Heh.

Now Izzy's given up yearning for romance.
She'll settle for a roof over her head. What fairy tales are left over
for an impoverished twenty-six year-old woman who's never even been
kissed?

This one.
MY REVIEW
Why did I not listen to other people when they were raving about this book?! I have seriously been missing out on one of the BEST Historical Romance Reads of 2014.  Not only is the writing phenomenal, but the characters were amazing to read as they bickered, kissed, played nice, and everything in between. I have so many pages marked with favorite quotes that I might as well just mark the entire story as one.
"No man deserves a woman like that. He mortgages his very soul to win her and spends his life paying off the debt."
Isolde (Izzy) Goodnight has not only missed her chance at finding a husband due to being ordinary, but she has also lost her family and fortune.  While she still has her dignity and the respect of her Fathers fans from his written books, Izzy is alone and broke.  When her Godfather passes away and leaves her a castle in horrible conditions, she thinks of it as a way to start fresh and have her castle she always dreamed of.  Oh, and she is still a virgin at 26 years old.
"Oh, but this gift isn't the same as an ermine. This is property. Don't you understand how rare that is for a woman? Property always belongs to our fathers, brothers, husbands, sons. We never get to own anything."

"Don't tell me you're one of those women with radical ideas."

"No," she returned. "I'm one of those women with nothing. There are a great many of us."
Ransom William Dacre Vane, the 11th Duke of Rothbury, has been hiding away in his family castle for months.  After his intended bride ran away with another man, Ransom went looking for them. When he found them, he was bested in a duel and left blinded from the wound.  He now hides from everyone so they don't have to see his ugliness and he can lick his wounded, injured pride.  When Izzy arrives to claim her castle, Ransom refuses to believe his home has been taken from him.  Together they make out a deal to where she stays and becomes his secretary while they figure out who has taken advantage of him.
"Sometimes he wondered if women were all lawyers, with an extensive code of Romantic Law that they kept stubbornly hidden from men."
Not only did I fall in love with Ransom, but the strength and determination that Izzy had standing up to him, made me enjoy this couple so much more. Izzy refuses to back down from him and it does bring about many memorable scenes and dialogue. Izzy can certainly hold her own against the stubborn and rude Duke of  Rothbury!
"Every time you wake up, you let fly the most marvelous string of curses. It's never the same twice, do you know that? It's so intriguing. You're like a rooster that crows blasphemy."
The side characters were wonderful as well! I loved the characters of Duncan and Abigail. I enjoyed them so much that I do hope they are featured again in future books — maybe as main characters even. If you are looking for a wonderful tale full of knights, honor, laughter and suspense, Ms. Dare includes it all in Romancing the Duke. A true fairy tale romance to read and be swept up in.
MY RATING
[sc:rate5 ]