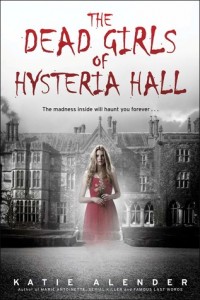 In this asylum, your mind plays tricks on you all the time…

Delia's new house isn't just a house. Long ago, it was the Piven Institute for the Care and Correction of Troubled Females—an insane asylum nicknamed "Hysteria Hall." However, many of the inmates were not insane, just defiant and strong willed. Kind of like Delia herself.

But the house still wants to keep "troubled" girls locked away. So, in the most horrifying way, Delia gets trapped.

And that's when she learns that the house is also haunted.

Ghost girls wander the halls in their old-fashioned nightgowns. A handsome ghost boy named Theo roams the grounds. Delia finds that all the spirits are unsettled and full of dark secrets. The house, as well, harbors shocking truths within its walls—truths that only Delia can uncover, and that may set her free.

But she'll need to act quickly, before the house's power overtakes everything she loves.

From master of suspense Katie Alender comes a riveting tale of twisted memories and betrayals, and the meaning of madness.
I have always set a rule in my reading that I would try and read one spooky themed book in October.  I set the romance books aside and enjoy at least one book to go with the Halloween themed thrills and mystery.  This time I chose The Dead Girls of Hysteria Hall by Katie Alender. The cover is spooky and the glimpse of a scene we get on the back cover drew me into the story.
Not only do we have a house full of creepy and insane ghosts, but we have a house hell bent on keeping out of control teen ghosts from leaving the place. Delia inherits this mansion/asylum from her relatives and ultimately ends up being a part of the ghost world more than she would like to be.
The story was suspenseful and the author did wonderfully at describing things with giving the reader the chills.  You learn to never trust anyone until they prove that they are worthy of that trust — sometimes being the people you would least expects. Secrets are revealed as Delia learns more about the previous patients and family heritage.
While this book is aimed for the teenage audience, adults will enjoy it as well I believe.  It adds just amount of spooky for the month of October reading.
[sc:rate5 ]