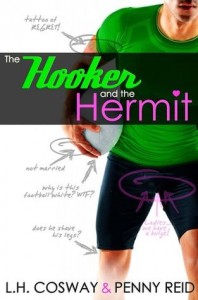 New York's Finest
Blogging as *The Socialmedialite*
April 22
LADIES AND GENTS! I have an announcement!
You know that guy I featured on my blog a few months ago? The really, really hot Irish rugby player who plays the position of 'hooker' in the RLI (Rugby League International)? The one with the anger management issues, the body of a gladiator and the face of a movie star? The one with the questionable fashion choices leading me to ask whether he was the lovechild of a leprechaun and a hobbit? Ronan Fitzpatrick? Yeah, that guy. Well, I have a confession to make…

THE HERMIT
Annie Catrel, social media expert extraordinaire at Davidson & Croft Media and clandestine celebrity blogger, can make anyone shine in the court of public opinion. She is the Socialmedialite, anonymous creator of New York's Finest and the internet's darling. Virtual reality is Annie's forte, but actual reality? Not so much.

THE HOOKER
Ronan Fitzpatrick, aka the best hooker the world of rugby has seen in decades, despises the media—social or otherwise. The press has spun a web of lies depicting him as rugby's wild and reckless bad boy. Suspended from his team, Ronan has come to Manhattan to escape the drama, lay low, fly under the radar. Only, Ronan isn't easy to overlook, and he can't escape the notice of the Socialmedialite…

THE PLAN
When Ronan is sent to Davidson & Croft Media to reshape his public image, he never expects to cross paths with shy but beautiful Annie, nor does he expect his fierce attraction to her. He couldn't be happier when her boss suggests pairing them together.
What lengths will Annie take to keep her virtual identity concealed? And what happens when the hooker discovers who the hermit really is?
First things first! I am going to clarify that it is not what you are thinking when you first read the title. It isn't about a prostitute/hooker on the street trying to romance a hermit. Well, it is half right I should say. You see there is a Hermit. Her name is Annie.  She happens to work in social media, but is rarely seen.  She prefers being alone and out of the public eye.  The Hooker part is a guy named Ronan.  Hooker is actually a position he plays in Rugby.  He is also a bad boy who needs his image cleaned up after getting into a fight with his team mate.
To be fair to Ronan, his team mate deserved the beat down he got.  He was caught cheating with his girlfriend.  I guess he shouldn't have fought him in the public eye though because he gets suspended from the team.  While on suspension, he takes a break to stay in USA. This is where he meets Annie and her team of media clean up crew. Annie has a secret of her own though.  She is the famous Socialmedialite blogger that has lived under the radar with no hint of who she is. Oh, and did I mention that on this blog she loves to post photos of celebrities and point out all of their flaws?
These two quickly start to fall for each other even though they are from two different places and personalities.  I did have a slight problem with how Ronan handles the aftermath of her secret being revealed.  Really? You are going to turn your attitude completely around from the way you have been treating her and be a jerk? I didn't find it believable because Ronan treated her with nothing but care, love and respect up until that point.  Also nagging me in the back of my mind was how furious Annie was when Ronan admits to knowing her secret identity. It irked me that she got so mad at him when she was the one hiding the secret.
The ending was satisfying and the writing was great.  I do hope we get to read about more of the characters in this book.  I would love a story featuring Annie's boss! You will be laughing out loud with every chapter as well.
FAVORITE QUOTE
"Dearest Annie, Roses are red. Violets are blue. I'm using my hand But I'm thinking of you. – Ronan P.S. Just to clarify, I'm using my hand to write this note…get your mind out of the gutter."
MY RATING
[sc:rate4 ]