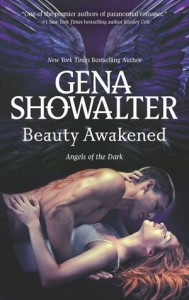 Beauty Awakened
Series: Angels of the Dark #2
Author: Gena Showalter
SUMMARY
(From Goodreads)
His name is Koldo. He is scarred, powerful, his control legendary-and he lives only for vengeance, determined to punish the angel who viciously removed his wings. But if he yields to the forces of hatred, he will be kicked from the heavens, eternally damned.
She is his last hope. Nicola Lane was born with a defective heart, yet this fragile human shows surprising strength as demons stalk her every move, determined to end her. She is the key to Koldo's deliverance…and his downfall. Though he fights duty, destiny and his first addictive taste of desire, his toughest battle will be the one for Nicola's life-even if he has to sacrifice his own….
MY THOUGHTS
I am a huge fan of Gena Showalter.  I admit that I am not caught up on all her current releases, but what I have read in the past has been awesome.  I love her writing and the worlds that she creates within the pages of a book.   As you can see from the description I posted above, this is the second book in the Angels of the Dark series.  I haven't read the first book yet, but I didn't have much of a problem following along with the story.  While I am sure I probably missed out on recognizing certain details — such as this author appearing in the previous book — I didn't feel cheated by jumping in feet first with book two.
The characters were written beautifully.  Koldo was heartbreakingly wonderful.  While he is hard to enjoy at times, other times he makes you want to weep at his feet.  While Showalter usually writes kick butt heroines, we get to see a vulnerability with Nicola that is a bit softer than the norm.  Also, while the sexual tension and chemistry is definitely in this book, it isn't as high on the sexual scenes that Showlater usually includes. It is still steamy and hot, but not as fluent as in her other works.
While I am a fan of this new series, I still feel the need to revisit her previous works to get my fix of what I have become accustomed to.  Definitely a series I will keep reading though because I can't stop reading what this author writes.
MY RATING
[sc:rate4 ]