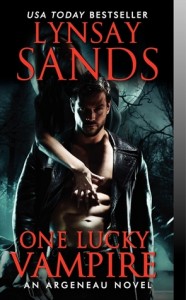 One Lucky Vampire
Series: Argeneau #19
Author: Lynsay Sands
SUMMARY
(From Goodreads)
Luck be a vampire tonight . . .
When Nicole Phillips agreed to hire a housekeeper, she pictured someone a little frumpy and almost certainly female. Instead, she gets gorgeous, unmistakably male Jake Colson. The man is proving indispensable in the kitchen—and everywhere else. Except Jake might not be a mortal man at all.
. . . and every night
Who wouldn't want to be a tall, dark, powerful vampire? Jake, for one. He's barely had time to adjust to his new state before he's roped into a family favor. Still, secretly playing bodyguard to sweet, sexy Nicole is turning out to be the wildest ride of his life. First he'll put a stop to whoever's targeting her. Then he'll prove that this kind of love, and luck, happens only once in an eternity.
MY THOUGHTS
When it comes to author Lynsay Sands, I am a sucker for the story!  I absolutely adore her writing, characters and plot lines.  You would think after 19 books in a series I would grow bored with it.  Sadly, it just makes me crave more from her!
With One Lucky Vampire we get to read about Jake Colson and Nicole Phillips.  Jake you might remember as Stephano Notte from A Bite To Remember.  He was turned by Vincent in that book in order to save his life.  To say that he isn't happy with being turned is an understatement. While he is glad to be alive, he did end up leaving his family behind to try and adjust on his own and in his own way.  When Marguerite asks Jake to help protect a friend of the family, Jake is nudged back into the family unit and accepts the job as a housekeeper/cook while actually being a bodyguard for Nicole.
Nicole has been through the ringer. Her previous husband was  guy who would rather spend her money than spend time with his wife.  He has made attempts on her life trying to get her money instead of losing it in a divorce.  She hires Jake as a housekeeper/cook to help her out while she finishes up her work in the art world.
With everything that takes place in this book between Jake and Nicole, I found the side characters of Dante and Tomasso to be my favorite.  They had some of the best lines in this book that left me laughing each time they opened their mouths!
"Nina's gone," Tomasso rumbled.

"What?" Nicole glanced around with amazement at that.  The woman had been standing guard over Jake like a German drill sergeant since arriving.   She hadn't even allowed Nicole to peek into his room just to see for herself that Jake was alive and well.  "Then who's watching over Jake?"

"Pinocchio doesn't need watching.  He's not sick anymore," Dante informed her.

"Yeah, he's walking and talking like a real boy now," Tomasso added dryly.

….."Right, so he was on his death bed the day before yesterday and now he's up and moving around?"  She shook her head. "What if he passes out or just falls down and hist his head?"

"IT's okay, it couldn't hurt anything," Tomasso assured her.

"Of course it could," she snapped.  "People have been known to die from head wounds."

"People have," Dante agreed.  "But not Pinocchio.  His head is full of wood."
I loved how they always called him Pinocchio in the story.  There is a reason why they call him this and it is one of the main reasons why Jake was unhappy about being turned and why he ran from his family.  Even with the jokes they throw Jake's way, Dante and Tomasso truly love Jake and would love to have him back into the family fold.  I love how they end up having Nicole be the one person who saves Jake instead of the other way around.
If you are a fan of the Argeneau series, then this book should be a must buy book for you.  It brings back the feel of earlier books but also keeps it progressing for the entire series.  Keep them coming!
MY RATING
[sc:rate5 ]