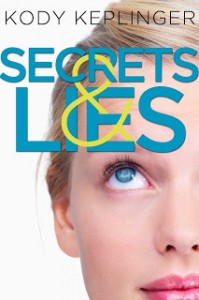 Secrets and Lies
Author: Kody Keplinger
SUMMARY
(From Amazon)
Kody Keplinger both returns to the halls of Hamilton High and explores new territory in her collection of two e-book exclusive novellas. In these short stories, the author revisits a familiar cast of characters from THE DUFF (Designated Ugly Fat Friend) and A Midsummer's Nightmare. Explore the uniquely teen world of high school drama, secrets, and romantic entanglements from completely fresh perspectives that will intrigue fans of Kody Keplinger and new readers alike.
MY THOUGHTS
Secrets & Lies features two short novella's by author Kody Keplinger.  If you are not familiar with this author in the young adult world, then I highly recommend that you start with The D.U.F.F.  I will also warn you that this authors writing is highly addictive.  Once you read one book by Ms. Keplinger, you will not want to stop at one.
Novella One: Abbreviations & Alliterations
The main characters featured in novella one are Casey Blithe and Toby Tucker.  If you have read The DUFF then you know that Casey is one of Bianca's best friends.  Toby was a guy that Bianca briefly dated in The DUFF.  With this short story we get to see both of these characters slowly fall in love with each other.  Casey is also having a hard time admitting that she is falling for Toby and doesn't want to let anyone know they are dating.  She is afraid that Bianca will find out since there is the unspoken girl rule of not dating your friends ex.  Toby goes along with it being a secret for a little while, but eventually he wants to know when they can tell everyone.  Toby doesn't understand why it has to be a secret since Bianca is happy now with Wesley and they only dated briefly.  Eventually, this story plays out with Bianca finding out.  There is drama, but not as big as it would be if it would have been a full length novel.  I felt that this novella was beautifully done and Toby was sweet.
Novella Two: People Worth Knowing
In this novella we get to go back to Hamilton High that was featured in A Midsummer's Nightmare. The main characters of this novella are Bailey and Brody.  Bailey is the little sister from A Midsummer's Nightmare and I am glad we got to see a little of her life in this one.  Again, characters from the previously mentioned book are present and we get to reconnect with them as well.  Bailey has had a crush on Brody Frasier for some time.  He is smart, athletic and popular.  When his sister Justine notices the crush, she lures Bailey into her circle of popular friends.  Justine is not a nice person and she proves this on several occasions.  Serious bullying is done and the author handled the touchy subject really well.  I am glad that we got to see how strong Bailey can be for her age emotionally and mentally in this novella.
While I enjoyed both short stories in this book, I think the first novella was my favorite.  Toby and Casey were fun to read about and I think it is mainly because I loved The DUFF so much.  Revisiting those characters were wonderful.  I still enjoyed the second novella but it had a feel of being for the younger group of teens.  I personally can't wait to see who the author writes about next!
MY RATING
[sc:rate4 ]
AUTHOR WEBSITE / GOODREADS / AMAZON
*I received this digital ARC free of charge in exchange for an honest review*